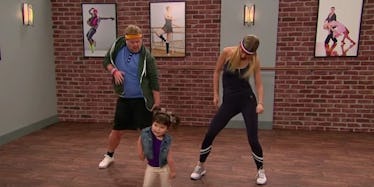 James Corden And Gwyneth Paltrow Took Dance Lessons From Adorable Toddlers
For Tuesday's episode of "The Late Late Show with James Corden," Gwyneth Paltrow chugged, I don't know, like 13 gallons of Action Moon Dust and danced harder than she's ever danced before, including all the awkward bopping at early-2000s-era Coldplay concerts.
An all new Toddlerography segment brought us Corden and Paltrow at peak performance levels and a crop of instructors who, despite their lack of experience, created something really moving.
Shout out to the teeny peanut in pigtails who proved she knows all the classic moves: air kick, head roll, floor punch, side punch, wall punch.
There is much to be learned from her commitment to dance excellence.