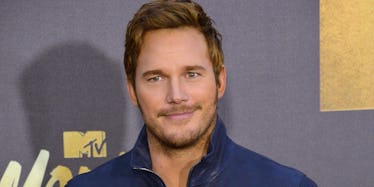 8 Celebrity Cancers Who Will Make You Fall In Love With The Zodiac Sign
Shutterstock
We are officially in the zodiac month of the Cancer. The emotional crab, the artistic, deep, loving and most intense sign of them all. This sign is also the most misunderstood.
Cancers are creative and artistic by nature. These traits of the Cancer personality make it very easy to find celebrities with this sign. Here are eight celebrities who make up the most awesome sign in the zodiac.  
Chris Pratt: June 21
America's favorite funny man/superhero/raptor trainer Chris Pratt slides in as first on the list. He's charming and charismatic, both on screen and in real life. His Snapchats will also have you laughing out loud. The dude's just got it all, and why? Because he's a Cancer.
Meryl Streep: June 22
Meryl Streep is an icon. She's a timeless beauty and an inspiration to young aspiring actresses everywhere. We all loved to hate her as the villain Miranda Priestly in "The Devil Wears Prada" and applauded her award-winning portrayal of Margaret Thatcher in "The Iron Lady."
Lionel Messi: June 24
Lionel Messi is arguably the greatest soccer player who ever lived. He's a master of the game and a lover of the fans. He also looks like he's a great dad. What's not to love about Lionel Messi? Yeah... he's a Cancer.
Khloé Kardashian: June 27
Khloé Kardashian is the youngest of the three Kardashian sisters and the one who's easiest to fall in love with. She's allowed the world to witness the ups and downs of her love life, her family struggles and her diligent work to transform her body into what it is today.
Kevin Hart: July 6
Kevin Hart's rise to fame was meteoric. His over-the-top personality and genuine humor made us all fall in love. Every comedy today is a little better if he's in it. He's down to earth, humble and not afraid to make fun of himself.
Tom Hanks: July 9
In 1994, we all fell in love with "Forrest Gump." It showed the incredible ability of a great actor, who truly became the role he was playing. He's probably the only man on Earth who can make a strange friendship with a volleyball named Wilson look normal.
Luke Bryan: July 17
Whether you listen to country music or not, you've heard of Luke Bryan. Arguably the most popular artist in his genre today, he's a country hit-making machine. His ballads will make you fall in love with whoever is closest to you. People either want to be him or be with him. He's a Cancer through and through.
Selena Gomez: July 22
Selena Gomez is a household name even your dad has heard of. She's gone from child TV star to pop phenom and has never lost her footing along the way. We've followed her love life with Justin Bieber like a soap opera. While other child stars from her era are falling apart under the pressure of fame, she has remained a role model to teens everywhere.
So, the next time you meet a Cancer you're thinking about dating, pull up this list and use it as a tool to remind yourself how really awesome Cancers are.