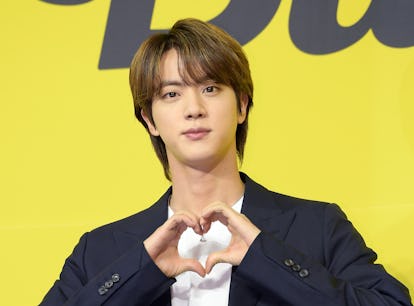 Jin's Hobbies Outside Of BTS Prove He's A Man Of Many Talents
There's not much Jin can't do!
The Chosunilbo JNS/ImaZinS/Getty Images
Spending eight years together has made BTS as close as brothers. Since they're always performing, rehearsing, and making music, fans often wonder what the guys do on days off by themselves. Considering they're all genuinely passionate about what they do, it's no surprise they spend time alone learning new instruments and recording solo songs. The members are so supportive of each other's individual projects. However, music isn't all they do. The members of BTS also love relaxing by watching TV and playing video games as much as any other person. Having a mix of hobbies helps them not get burn out. For example, Jin's hobbies include a bit of everything, allowing him to explore various interests.
Fans discovered some of Jin's hobbies by watching BTS' interviews, live streams, and YouTube videos. They've also learned more about him through the group's reality series like Bon Voyage and In The Soop, which show the members vacationing together. ARMYs love seeing the guys take their minds off work because they're all so deserving of a break.
If you're curious about what Jin's hobbies are when he's not on stage performing, check them out below.
It's nice to know Jin's hobbies include both music and non-music-related activities!