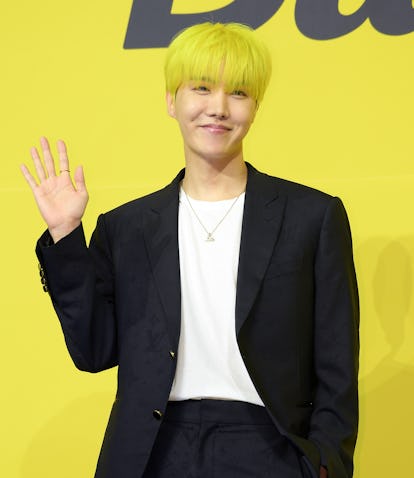 J-Hope's Hobbies Outside Of BTS Reveal How Deep His Love For Music Runs
Music can be for work or play for Hobi.
The Chosunilbo JNS/ImaZinS/Getty Images
New BTS fans may have a lot of questions about the members, from their ages and secret talents to their interests. The group makes several comebacks a year, so it may seem like they're always performing or making TV appearances. However, when they're not on stage, they love winding down by indulging in their personal hobbies. They like working on solo projects, taking virtual courses, and relaxing at home. If you ever wondered what BTS' J-Hope's hobbies are, know they allow a lot of room for self-expression.
J-Hope is such a creative person and his hobbies accurately reflect his personality. Dancing lets him tell stories through choreography, while songwriting helps him express himself through written words. He also makes sure to mix his musical interests with other hobbies so he doesn't overwork.
Fans learn about J-Hope's hobbies through BTS' YouTube videos, livestreams, and social media updates. Sometimes, he'll tell fans directly about what he's been up to or he'll show them by filming himself in the studio or practice room.
If you want to know more about him, take a look at J-Hope's hobbies below.
It's nice to see how J-Hope spends his time outside of BTS!