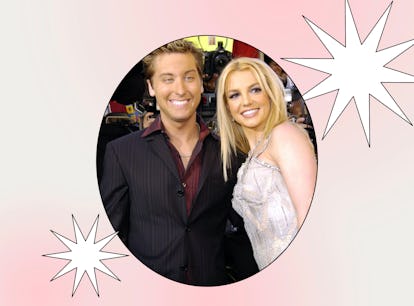 Britney Spears Is In "New Auntie" Mode With Lance Bass' Twins
This is one star-studded family.
KMazur/WireImage/Getty Images
Britney Spears has been on the move lately. From announcing the release date of her upcoming memoir to casually reminding fans she's still *the* reigning pop princess, the singer is in work mode. However, even with a heavy load, she's still making time for those she cares about. Recently, the Blackout star met former NSYNC member Lance Bass' children for the first time, and the photos are adorable.
On July 24, Spears gushed about her latest playdate with his 1-year-old twins, Alexander James and Violet Betty, on Twitter. "I'm a new auntie for Lance's babies !!! They are absolutely gorgeous babies !!!" She wrote in the post, which features two photos of her, husband Sam Asghari, and Bass posed with the kids. The trio were all smiles during their meeting, with Bass and Spears seemingly wearing similar floral patterned shirts.
Bass and husband, Michael Turchin, announced the twins' birth via surrogate in Oct. 2021. In June, four months before their arrival, the couple told People they went through nine different egg donors, several unsuccessful IVF treatments, and a few surrogacy hiccups before their kids were born.
It's heartwarming to see Spears wearing her newfound "auntie" crown, but technically, she was already related to Bass. In a 2021 episode of Ancestry's 2 Lies & A Leaf, the former boyband star found out he and Spears are sixth cousins, once removed. The host revealed their blood relation lies in their Southern roots, as they were born in Mississippi cities just an hour away.
"Look, I wanted to be related to the Queen. Well, now I'm related to the Queen of Pop!" Bass said at the time. "That is so crazy though, 'cause, I feel like she's my little sister, and this whole time she's been my little cousin. For some reason, I always felt like we looked like family, even when we were kids."
Though the duo just learned of this ancestral connection, they've been friends since the '90s. The two famously shared the stage on NSYNC's Second II None Tour, and remained close after she and Justin Timberlake split in 2002. In recent years, Bass has continued offering behind-the-scenes glimpses into their friendship. On Watch What Happens Live in 2019, Bass revealed she was the first person he came out to. Specifically, he told her at her wedding to her ex-husband, Jason Alexander, in 2004.
"She started, like, really crying and, like, she was so upset," Bass told Andy Cohen at the time. He noticed Spears seemed anxious about her pending marriage, and he tried helping her calm down. "I took her to her room and we were sitting on her bed and she wouldn't stop crying, so I was like, 'I'm gay,' and it made her stop crying." Two years later, in 2006, he publicly came out as gay in a cover story for People.
Now, this is one friendship that needs to remain forever.