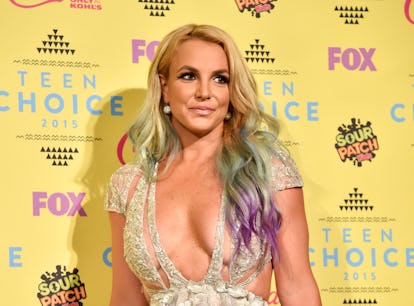 Britney Clarified Her New Tattoo Has Nothing To Do With Justin Timberlake
Fans were concerned she was hung up on her ex because of the post.
Variety/Penske Media/Getty Images
It's been a wild week on Britney Spears' Instagram. And now, the singer is clearing some things up after her recent posts confused fans. Spears raised a few eyebrows on Tuesday, Jan. 17 when she shared some old snapshots of herself and ex Justin Timberlake to her grid, and then immediately followed that post up with a video of herself getting a new tattoo. The proximity of the posts caused fans to theorize she was inspired to get the new ink while reminiscing about her time with Timberlake, but Spears set the record straight about her new tattoo in a follow-up post.
In her since-deleted post on Jan. 17, Spears shared a couple of throwback photos of herself and ex Timberlake at a 2001 basketball event, captioning the pics: "When we used to shoot hoops TOGETHER ... that's when miracles happened." Spears and Timberlake had an infamously tumultuous breakup, so the vintage shots confused longtime fans. Even more confusing, Spears followed up those photos with a new video of her in Maui getting a tattoo on her arm. She wrote that she didn't want to show off the tat, because she was unhappy with it: "Can't show it because it sucks!!! Like really really sucks!!! Sh**!!! Psss … I have to fix it!!!"
Some fans assumed the new ink may be a tribute to her time with Timberlake since she was clearly in such a nostalgic mood while getting it, but as soon as Spears caught wind of those rumors, she shut them down.
"Just to clarify ... my tattoo had nothing to do with an ex in the past," Spears wrote on her IG Story on Jan. 19. "I simply did it because I wanted to !!! The pic with my ex is a time when there was less confusion on what it meant to be together ... it is what is is !!!"
It's more likely the mysterious tattoo is a tribute to her relationship with husband Sam Asghari. Spears and Asghari married on June 9, 2022 in a star-studded ceremony.
Spears famously dated Timberlake from 1999 to 2002. After they split, Timberlake implied Spears cheated on him in a pointed diss track "Cry Me a River," and was criticized for making lewd comments about his ex while promoting it. Timberlake finally apologized for his actions at the start of 2021 when the documentary Framing Britney Spears revived the breakup drama.
Despite their messy breakup, Spears has lovingly shouted out Timberlake on her Instagram before, so the throwback pics weren't something totally new. It sounds like Spears was just feeling a bit nostalgic before getting some new body art.