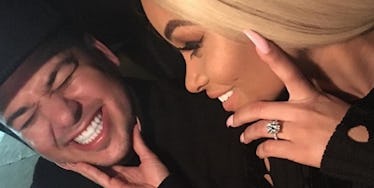 The Gender Of Blac Chyna And Rob Kardashian's Baby Has Been Revealed
Instagram
We all know Blac Chyna and Rob Kardashian are expecting their first child.
The couple made the announcement over Mother's Day weekend by adding photos of a pregnant Blac Chyna emoji on Instagram.
SURPRISE!!!!!
Things have been moving pretty fast ever since Rob proposed to Blac Chyna in the beginning of April. The two are reportedly very happy together, despite the fact that there was lots of drama betwen Chyna and the Kardashian family.
It looks like Rob's sisters and Blac Chyna have worked things out though, because they've been spotted hanging out together on numerous occasions.
AW, what a big, happy family. It's crazy to think about WTF the Kardashian family tree will look like now, especially because Blac Chyna and Tyga have a child together already.
Will that make Kylie a stepmom or an aunt? I don't know, it's too confusing to think about.
Well everyone, Rob Kardashian and Blac Chyna have more news for us. They just revealed the gender of their baby!
According to Us Weekly, the recently engaged couple will be having a baby girl! A source shared the news and added,
Rob couldn't be happier.
ROB'S GONNA BE A DADDY.
Their daughter will start the next generation of Kardashians and carry down the family name.  LOL, no pressure.
CONGRATS, YOU GUYS!  What are you going to name her? Twitter has a few ideas...
Citations: Rob Kardashian Blac Chyna Baby Girl (Us Magazine)