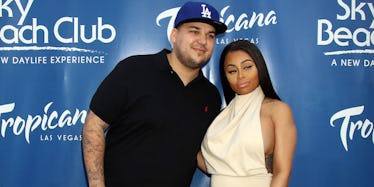 Blac Chyna's Dad Reveals What He Really Thinks Of Her Becoming A Kardashian
REX/Shutterstock
It's been a big week. Khloé Kardashian turned 32. Kylie Jenner and Tyga are officially back together (probably). And the Kardashian sisters did some major bonding with Rob's finacée, Blac Chyna.
While the world has sat around wondering what the Kardashians think of Blac Chyna, how they took the news of the engagement and what they think of Blac Chyna's children bearing their sacred last name, there has been considerably less talk about what Blac Chyna's family thinks of everything.
Well, Blac Chyna's dad, Eric Holland, is finally speaking up. And unlike all the mixed signals the "Keeping Up with the Kardashians" stars sent, he seems pretty thrilled with the whole thing.
Holland told Daily Mail,
Oh yeah I'm happy of course -- she knows that. As soon as I found out I was all happy for her -- they're having a baby and everything -- she's got my blessings.
Her dad went on to say he always knew his daughter would go places, but she's also never forgotten where she came from. Blac Chyna is part of a large extended family, so she's used to all the siblings (she reportedly has two half brothers and nine half sisters). Holland explained,
She was at my little daughter Summer's birthday party two weeks ago and she took some pictures with everyone. It was really nice she made the effort for her sister.
As for what dad thinks of Rob, Holland gave his clear blessing. He said,
I met Rob. He seems like a nice man -- he was nice with me and everything so I'm happy for her.
Blac Chyna's mom, Tokyo Toni, previously expressed her joy as well.
It looks like, for now, there is peace on both sides of the family. Now we just want to know: When is the wedding?!
Citations: EXCLUSIVE: 'I always knew that she was gonna end up somewhere': Blac Chyna's father speaks out for the first time to say he's overjoyed for his pregnant daughter (Daily Mail)