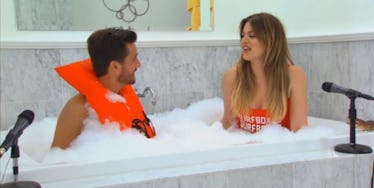 Scott Disick Just Wished 'Little Cream Puff' Khloé Kardashian A Happy Birthday
YouTube
The Lord himself has a pretty unique way of celebrating Khloé Kardashian's birthday, and it surprisingly has nothing to do with grabbing his crotch while talking to her.
Scott Disick took to Instagram while wishing Khloé a happy birthday and in the process identified her as a "little cream puff."
The photo, which has racked up over 44,000 likes on the photo-sharing platform, revisits a spontaneous bubble bath between the two.
Khloé, who recently covered Glamour Mexico's July issue wearing nothing but a trench coat, has yet to respond to her new nickname.
As for Disick, well, he kind of screwed up by not calling her a "kream puff" with a K. I mean, that is their thing, isn't it?
Kourtney Kardashian followed up with an Instagram post of her own to wish her now 32-year-old sister a happy birthday. The post read,
Happy birthday to my little cinnamon sugar apple pie, rainbow sprinkle covered strawberry shortcake, powdered sugar lemon meringue, chocolate mouse with whipped cream and a cherry on top. I love you madly. Happy birthday!
OK, this is starting to get weird. Does everyone refer to Khloé as some kind of edible, sugary treat? We'll have to wait for the more popular sister (Kim) to post her birthday wishes and see if the trend continues!