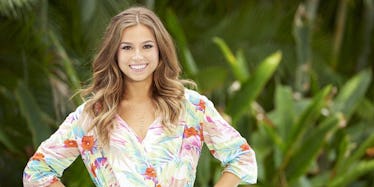 BIP' Star Kristina Reveals Whether Or Not She'd Want To Be The Next 'Bachelorette'
ABC/Bob D'Amico
Kristina Schulman had a very dramatic journey on the recently-ended season of Bachelor in Paradise. America watched her strike up what appeared to be a solid courtship with Bachelorette fan-favorite Dean, only to get entangled in a love triangle when he started to explore things with D-Lo. It all resulted in her exiting the show before giving out a rose, after giving an impassioned speech about wanting to be respected in her next relationship. It was a "you tell 'em" moment that made us want to blast Beyonce's "Single Ladies" at full volume, but also had Bachelor Nation immediately thinking, will Kristina be The Bachelorette? Well, here's some hope.
Kristina's personal life has been the topic of discussion ever since Deanie Baby acted downright shady towards her on that fateful Mexico beach. The 25-year-old Dental Hygienist rose like a sweet phoenix from the reality TV dating show ashes and quickly became one of the season's most endearing cast members. While we have a season of Arie on The Bachelor to get through before The Bachelorette comes back around, fans are hoping that she might get considered for the coveted role next time. Kristina recently sat down with The Ben and Ashley I Almost Famous Podcast to discuss everything that went down and fill the world in on her future with the franchise. She revealed,
If asked to be the next Bachelorette I would have to probably consider when the time comes to it, because again, watching Bachelor in Paradise, it was a lot of emotion. It's hard to see yourself that emotional. I don't know. I think, one day if the opportunity presents itself, if it does... I'll consider it then. For now on I have to kind of learn from Bachelor in Paradise and move on from that.
Hey, that's good enough for now. She also reminded Ashley and Ben that there's still some time until the show would film and that "there's a couple women coming in..." before then. We guess she's referring to Arie Luyendyk Jr.'s season of The Bachelor, which premieres in January.
Kristina has been living her best post-BIP life, but the press rounds aren't without their fair share of uncomfortable moments. She, Danielle L., and Dean stopped by Ellen this week to talk BIP drama and it was... awkward? I don't know about you, but sitting on a couch with a guy I dated and the girl he played me for doesn't make me want to dance.
Danielle and Kristina both got to speak up about the whole Dean debacle on Monday's BIP finale. D-Lo, the poor point on the triangle in this whole saga, even admitted that he called her up after they left Paradise (for shame!) and they had a thing. Kristina told Dean that he would always hold a special place in her heart. Maybe they'll go full The Other Woman on him and team up for total girl power anti-f*ckboy world domination? Guys, even Chris Harrison called Dean that...
After this storm calms down and Kristina has time to deal with all those emotions, we hope she'll actually give the whole Bachelorette thing a shot if asked. Another possible contender for the gig from this season of BIP would probably be Amanda Stanton, who broke off things with Robby Hayes after he allegedly cheated on her. We know there are plenty of fish in the Bachelor sea to meet shortly, but both of these ladies would make excellent choices.
For now, we wish Kristina all the love, respect, and good times she deserves. #TeamKristina has got your back.
Check out the entire Gen Why series and other videos on Facebook and the Bustle app across Apple TV, Roku, and Amazon Fire TV.