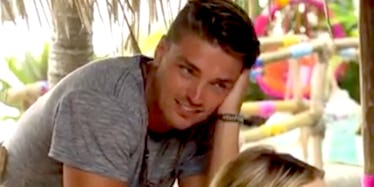 People Are Pissed At Dean Over How He Treated Kristina On 'Bachelor In Paradise'
ABC
He may have been a fan favorite on Rachel's season of The Bachelorette, but Dean has quickly transformed into an unlikely villain just three episodes into the new season of Bachelor in Paradise. On Monday's latest episode of BIP, Bachelor Nation completely turned on Dean after he began openly pursuing two different girls on the show. Up until now, Dean had been close with Kristina, even spending Paradise's production hiatus together with her before they came back to the show together, but seemingly out of nowhere, Dean began distancing himself from Kristina in Monday's new episode and accepted a date with new arrival Danielle, much to Kristina's disappointment. Dean's shade towards Kristina on Bachelor in Paradise not only caused some of his fellow contestants to call out his questionable motives, but also the fanbase at large.
Dean's sudden pivot away from Kristina was even more shocking and unsettling since it came directly after she gave him a rose in the first rose ceremony of the season, securing his place on the show for another week. Both Kristina and viewers alike were surprised when Dean quickly accepted a date from new arrival Danielle and made out with her right after Kristina gave him her rose. And even when it looked like Dean and Kristina had made up towards the end of the episode, he had to go and ruin it again by surprising Danielle with a half-birthday cake, clearly showing his affection for her and sending Kristina back to her bed in tears.
Fans erupted in rage over Dean's actions on Twitter. Check out some of the best tweets below.
The shady actions by Dean were especially surprising for fans since he had become something of the franchise's golden boy after his appearance on The Bachelorette and in the time leading up to Bachelor in Paradise. Prior to BIP's premiere, Dean was probably the most popular contestant of the bunch, and the one most fans were hoping would find love on the show. Clearly, the tides have totally shifted now.