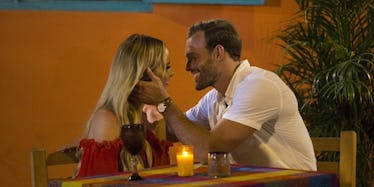 Here's What Really Happened Between Robby & Amanda After 'Bachelor In Paradise'
ABC/Paul Hebert
In the words of Lacey, "I can't believe we're here." The only difference between her and me right now is that she's saying it to Daniel about the fantasy suite and I'm saying it about the final week of Bachelor in Paradise. During the finale reunion, the Ferguson twins brought up the accusation, making everyone at home wonder: Did Robby cheat on Amanda?
Let's rewind: After an intense few weeks of watching relationships grow and dissolve between the contestants in paradise, we've finally got our finish line couples: Daniel and Lacey, Taylor and Derek, and Raven and Adam. Of course, it's exciting to watch these new couples move forward, but it's definitely more entertaining to watch the drama between the couples that didn't quite make it through paradise. One of those couples is obviously Amanda and Robby. While they didn't have the happiest of endings in paradise, rumors have surfaced that they were dating after the show finished taping in July. Their relationship (whatever that may be today) is anything but perfect, though, since rumors also recently surfaced that Robby cheated on Amanda.
The conversation about Robby's potential infidelity began while Chris Harrison was talking to Amanda about her post-paradise relationship with Robby and why they are no longer together. One of the twins said, "[Robby] did cheat on Amanda. There was pictures coming out." Chris Harrison then brought out Robby and asked, "Is that true?" to which Robby replied, "That's false," and the other twin said, "What happened in Colorado then?" Amanda and the twins then brought up pictures of Robby getting close with another girl while he was in Colorado. It was a big, dramatic, entertaining mess.
Ultimately, Robby said he went to Colorado on business, but that he never hooked up with anyone there. The pictures that the twins and Amanda saw looked like Robby was making out with another girl while he was dating Amanda, but Robby firmly denied that he was unfaithful to Amanda.
Whether or not the rumors are true, one thing is for sure: Robby and Amanda's relationship is one of the most confusing to ever come out of paradise. Throughout the season Robby's affection for Amanda was so obvious, but she didn't seem to feel the same way. The two had a very Carly/Evan type of relationship, though, since Amanda's initial responses to Robby were not receptive, but he eventually wore her down and they began a little fling while in paradise. It wasn't enough, though, since Amanda didn't want to leave paradise with Robby as a couple. Later in July (well after Bachelor in Paradise had finished taping Season 4), though, these two were photographed holding hands in public, which sparked relationship rumors right away.
Amanda addressed those rumors on After Paradise with Chris Harrison, saying that she did decide to give it a go with Robby after they left paradise; she revealed that after leaving paradise, she wondered if she had made the right decision by turning Robby down and eventually she and Robby began dating again. The bachelorette was quick to state that they are not together now, though, saying that the two didn't talk a lot outside of paradise and she felt like a convenience girlfriend to Robby. Ultimately, Amanda said she thinks he is just not ready for a relationship. It's not all bad, though. While they may not have worked out, they still remain friends and Amanda revealed that Robby helped her get over a lot of "what happened last year" (with former Bachelorette contestant/her ex Josh Murray).
These two never really seemed to be a picture perfect couple anyways — as no matter how cute they were together — so it's probably better they just stay friends. I guess now we can wait and hope we'll see them next season in paradise, or, dare we say, as the Bachelor or Bachelorette down the road.