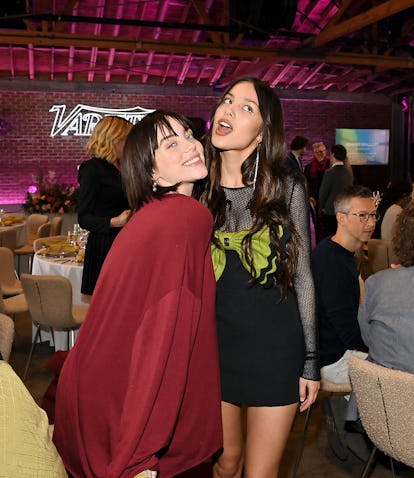 Billie Revealed The Special Song She Wrote About Olivia Rodrigo
This song hits so different now.
Stefanie Keenan/Getty Images Entertainment/Getty Images
Olivia Rodrigo was on Billie Eilish's mind when she was writing one specific song on her 2021 album Happier Than Ever. At the time, Rodrigo had just been catapulted into superstardom thanks to the success of her debut single "Drivers License," and that was a bit worrying for Eilish. Two years after Happier Than Ever's release, Eilish revealed that one very special track on the album was inspired by Rodrigo, and the message is clear now upon re-listening.
Eilish admitted in her Nov. 14 Los Angeles Times profile that she felt very protective of Rodrigo as she shot to fame, since she had a similar overnight success story and knew all the harmful aspects that come with the praise. She even wrote a song to try to warn Rodrigo about the darker side of being a pop star.
"I have a song called 'Goldwing' from my last album that's kind of about her," Eilish revealed. "I was just thinking about her when I was writing it. She was coming up, and she was younger than me, and nobody had ever been younger than me."
In "Goldwing," Eilish sings about a "gold-winged angel" who is too "sacred" for the dark, artless world. She pleads for the angel to "keep your head down" and return home, warning her that she'll be taken advantage of:
They're gonna tell you what you wanna hear / Then they're gonna disappear / Gonna claim you like a souvenir / Just to sell you in a year
Eilish revealed the lyrics were her way to express her concerns for Rodrigo dealing with the music industry and public attention.
"Olivia was getting big, and she was just, like, this little dainty child. I felt so nervous," Eilish confessed. "I was worried about her. She came up in that acting world, and people are so weird. I don't know — I just felt very protective over her."
It's true that Rodrigo has had to deal with a lot of drama from the first moment of her success. "Drivers License" caused a tidal wave of rumors as fans loudly speculated who the breakup track was about. Then two songs on her debut album faced copyright drama over similarities to Paramore and Taylor Swift songs. Most recently, the singer has had to side-step growing fan theories that she had some sort of rift with Swift.
But thankfully, Rodrigo has managed to fly high above all the drama, just like the gold-winged angel Eilish was singing about.