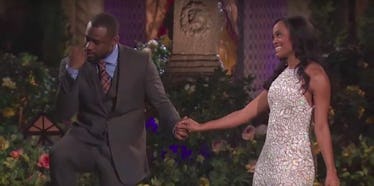 The Best And Worst Limo Entrances From Rachel's 'Bachelorette' Premiere
ABC
The first episode of Rachel Lindsay's Bachelorette season premiered Monday night and boy, it did not disappoint.
Everyone knows the highlight of the first Bachelor/Bachelorette episode is the limo entrance. Some are amazing, some are super cringeworthy, others are just "eh." This season, we saw everything from a full marching band to a penguin costume, and also (weirdly) a lot of food.
Here are some of the best and worst limo entrances from the premiere of Rachel Lindsay's season of The Bachelorette.
The Best: Peter
Peter was the first guy to greet Rachel and enter the mansion. He seemed really genuine trying to quell her nerves, which I thought was super cute. He also made a funny Nick Viall joke about being a good Wisconsin guy. It was simple, wasn't too cringeworthy, and he seemed so interested in being there in that moment with her.
The Worst: Jonathan
No, no, no. Just NO. The dude hopped out of the limo, asked her to put her hands out and close her eyes, and TICKLED HER. If I was Rachel, I would have backslapped him (mostly 'cause that's the immediate reaction I have to someone when they tickle me). It was weird.
The Best: Bryan
OK, I think we can all agree once Bryan started speaking Spanish, all bets were off. Obviously Rachel was into it, as we saw during their intense makeout sesh later in the episode. He also got the first impression rose.
The Worst: Adam and Adam Jr.
I don't know who told him it was OK to show up with that doll. If anything, that prop just immediately gives away the fact that you're into some creepy things.
The Best: Kenny
Kenny got the party going with some dance moves and Rachel wasted no time in jumping in on the fun. It wasn't too much and didn't get weird, and I think it showed off his fun side.
The Worst: Matt
This guy is the Shark Girl of this season. He showed up in a full penguin costume, and he could barely talk to Rachel with that beak in front of his face. It was just awkward all around.
The Best: Fred
Fred actually knows Rachel from elementary school and he brought his yearbook to show her. You can tell Rachel is super embarrassed, but I thought it was a great way to separate himself from the pack and get a little nostalgia in there.
The ULTIMATE Worst: Lucas
Let's just agree that Lucas is no good. I'm all about being the funny guy, but this "whaboom" thing isn't even funny... it's insane. Apparently, this isn't Lucas' first time on a dating show, either. So I personally think he's just wasting Rachel's time. BYE, LUCAS!