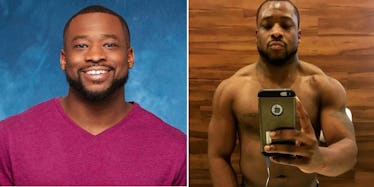 This 'Bachelorette' Contestant Is A Wrestler And Videos Of His Matches Are Intense
ABC/Instagram
Look -- I'm not your mom. I'm not here to tell you who you should and should not date.
But, as a keeper of this article on the Internet, I'd highly recommend finding someone like Kenny King, a Bachelorette contestant on Rachel Lindsay's season, a father, and evidently, a professional wrestler that I am just now learning I am really into.
I was tasked with the difficult assignment of stalking this man this morning, and found some important details about his life, including his outrageous bicep circumference and also this video:
And this video where he, like, kind of raps?
And this photo where he's dancing but also carrying another man on his shoulders.
And this photo where he is literally flying.
For Kenny, being on The Bachelorette will not be his first time on reality television, though it will be a little bit different than what he's used to.
Having previously appeared on the original WWE series Tough Enough, Kenny will now be duking it out in a different kind of ring... the ring of love. Dun, dun, dunnnnn!!!
However, displaying affection is not a problem for the 35-year-old, as he gushes love and adoration for his 6-year-old daughter, saying, "She is literally my reason for living. She makes my life better," on his Bachelorette bio.
Look at this stupid adorable video of them.
I SAID LOOK AT IT!
One word of warning, Kenny, you are up against this guy, Jonathan, who calls himself a professional Tickle Monster. So... I mean...
I don't know, too close to call so far.
If you aren't tuning in for the premiere for Kenny's back muscles, tune in to finally catch a diverse cast. According to the Hollywood Reporter, this season features more non-white contestants than all of the other seasons combined.
In the mean time, we're all waiting for Monday to hit up our stock of Bachelorette wine, secure our viewing locations, and see Kenny on ABC.
Citations: Who Is Kenny On 'The Bachelorette'? This Wrestler Hopes To Make Moves On Rachel's Heart (Bustle), 'The Bachelorette': ABC Debuts Most Diverse Cast in Franchise History (Hollywood Reporter)