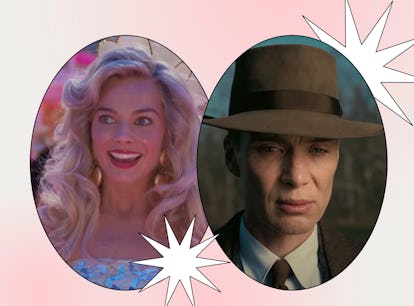 Barbenheimer Memes Are Blowing Up In A Pink Mushroom Cloud
This crossover just keeps on giving.
Warner Bros./Universal
On the surface, it really doesn't seem like Barbie would have a lot in common with theoretical physicist J. Robert Oppenheimer, but the unexpected duo has become the internet's favorite collab of 2023. The jokes started when film fans realized Greta Gerwig's Barbie and Christopher Nolan's Oppenheimer, both heralded as two of the biggest movies of the year, would be hitting theaters on the same day. And as July 21 came closer and closer, the Barbenheimer memes exploded like never before. Now, social media is filled with clever edits, cartoons, and fan-made posters mashing up Barbie's pretty-in-pink aesthetic with the ashy smoke clouds of Oppenheimer. The result: a totally unforeseen crossover that's positively atomic.
The Barbenheimer movement erupted into a full-fledged craze shortly after movie fans began joking about turning the two polar opposite blockbusters into a double feature. At the center of the excitement was the combination of aesthetics — Barbie's cheery, bright-pink dream world smashing into the grim, grey landscape of World War II. As it turned out, that strange mixture was just the spark so many artists needed to create unbelievable posters, hilarious video edits, and tons of jokes.
If you've gotten caught up in the Barbenheimer fever, here are some of the best memes that truly capture the magic of the atomic blonde moment.
And thankfully, this spirit of collaboration and mutual support extends beyond social media memes. Although there can sometimes be some competitive tension when two high-profile movies come out on the same day, the teams behind both Barbie and Oppenheimer have been vocal about their excitement to see each other's movie. Greta Gerwig and Margot Robbie even shared a photo of themselves about to watch Oppenheimer, and Christopher Nolan and Cillian Murphy returned the favor in interviews. "I'll be going to see Barbie 100% — I can't wait to see it," Murphy told IGN. "I think it's just great for the industry and for audiences that we have two amazing films by amazing filmmakers coming out on the same day. Yeah, you can spend the whole day in the cinema — what's better than that?"
Nolan echoed Murphy's sentiment in another IGN interview. "I think for those of us who care about movies, we've been really waiting to have a crowded marketplace again, and now it's here and that's terrific," the director said.
At this point, Barbenheimer is basically a national holiday. So get your half-pink, half-black outfit sorted, but a pair of movie tickets, and prepare for a double feature like no other when Barbie and Oppenheimer crash into theaters on July 21.