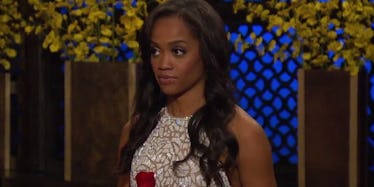 All The Times 'Bachelorette' Rachel Lindsay Clapped Back At Haters And Made Us Cheer
ABC
Every Bachelorette has to deal with her fair share of scrutiny from the public, but Rachel Lindsay, the first African American to lead the franchise in 34 seasons, has had her own unique brand of nonsense to navigate this season. She's been incredibly graceful in responding to her haters, but she doesn't hold back when she feels that a comment warrants a sharper response (remember, she's a lawyer). So to commemorate her season, here's a look back at some of the best of Bachelorette Rachel Lindsay's comebacks.
1. Shutting Down Online Haters
Rachel isn't big into Twitter, but when she tweets, it's usually pretty positive. She even maintains her cheerful tone when responding to anonymous haters.
Here, she calls out the hypocrisy of a viewer who can't seem to stand her, yet continues to watch her show and use her hashtag. Responding to randos isn't usually on her to do list, but when you #havetimetoday, why not?
2. Calling Out Leah Block
Did you think she was finished #havingtime? Nope. on June 20, Lindsay made time for a little more clapping back and this time it was at former Bachelor contestant, Leah Block. Block was tuning into The Bachelorette when she tweeted the following:
I'm sitting here watching @BacheloretteABC and my roommate just sat down on the couch and said, 'What is this? @LoveAndHipHop_?' DEAD.
Yeah, not her best. Rachel responded by offering to introduce Block to one of her eliminated suitors, Lee Garrett, whose racist tweets shocked fans when they were revealed after his elimination.
Block immediately deleted the tweet, along with her whole Twitter, and temporarily made her Instagram account private. That's what you get when you disrespect a woman like Rachel!
3. Letting Lee Have It
Speaking of Lee Garrett, Rachel didn't hold back when she confronted him about his racism on the Men Tell All episode.
All tweets aside, Lee's conduct on the show was marred with racial insensitivity, especially when he made an enemy of Kenny King, whom he repeatedly described as violent and aggressive despite his clearly docile nature.
On the Men Tell All episode, Rachel criticized Lee for not taking advantage of the "amazing opportunity" he was given to live in a house full of great men from diverse backgrounds, and she let him know that she hopes he learned from his mistakes.
She told him, "If you didn't… Please note that you can exit stage left and I will meet you backstage and give you a black history lesson."
Laying down the law like the lawyer she is.
4. Putting Dean In His Place
Dean Unglert was beloved by Bachelor Nation for wearing his heart on his sleeve and those big puppy dog eyes on his face, but he was sent home after hometown dates for being a little too young, at 26, for the 32-year-old Bachelorette.
But his time on the show began with a pretty awkward moment when he introduced himself to Rachel with what she later called "a very bold comment." He told her, "I'm ready to go black and I'm never going back."
Rachel went on to say she loved the intro and that she appreciates confidence in a guy, but those same words got Dean into some hot water after his elimination, when a (white) friend from home posted an Instagram of Dean and herself with the caption "Went black, but came back" which was… more than a little tone deaf.
This is where Rachel comes in – commenting on the picture "sent back…he didn't come back lol."
Keeping it casual with the "lol" but setting the record straight and shutting down the insensitive Instagram girls of the world in one fell swoop. Very impressive, Rach.
5. Telling DeMario To GTFO
OK this one isn't really a comeback, but it's a "Rachel being a boss" moment that deserves to be recognized.
Rachel was having absolutely none of it when DeMario's girlfriend showed up aired out all of his dirty laundry. Rachel was fair and listened to DeMario's story until it became clear that he was full of BS, at which point she eliminated him on the spot.
With an assertive "get the f*ck out," DeMario was gone and Rachel could get back to the serious business of finding love.
Rachel may not be the most outspoken or confrontational Bachelorette in history, but she is smart, incredibly well-spoken, and not afraid to stick up for herself when it's necessary.
She tweeted about how she manages to keep it classy while watching her back and I think we should all take a page from her book on this one.
"Keep the grass cut low so the snakes will show" is some great advice, and it totally explains how she manages to stay so classy while keeping her men in line.