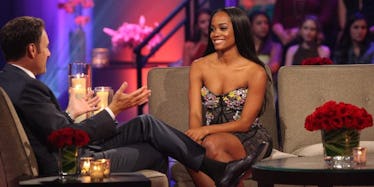 Rachel Goes Full Savage On Lee During 'Bachelorette: Men Tell All' And It Was Everything
ABC/Paul Hebert
Rachel Lindsay just went in on Lee on The Bachelorette: Men Tell All, because she is a perfect human who should probably run for office. Much of the episode had already been spent going over Lee's history of racist tweets, and Lee's racially charged fight with Kenny. Though Lee had already apologized, it was still incredibly satisfying to watch Rachel confront Lee on Bachelorette: Men Tell All.
Rachel confessed to Chris Harrison that she hadn't realized how horribly Lee had been treating Kenny until she watched the final cut of the show, because she hadn't been in the house. Rachel then turned to Lee, and told him exactly how disappointed she was.
"I have the opportunity to be a spokesperson for African Americans, and for women," Rachel began, before she tore Lee apart.
"You had such an amazing opportunity," Rachel told Lee, referring to living in a house full of diverse men from many different cultures and backgrounds. "And you didn't take it." Rachel told Lee that she hoped when Lee watched the show back, he realized what he had missed out on.
"And if you didn't," Rachel added, "Please note that you can exit stage left and I will meet you backstage and give you a black history lesson."
"Yes, ma'am," said Lee. "And I want to apologize to you. I didn't take that opportunity to learn, and watching that tape... goodness."
Rachel sort of accepted his apology, but it's clear she wasn't letting him off the hook. She said,
Yeah thank you, I accept your apology, but you didn't need to watch a playback to learn how great they were. You were in the house with such great men, and I hope you take that wherever you go in life.
Unsurprisingly, Twitter went crazy for Rachel's speech to Lee.
Can Rachel just run for president or...? Anyways, next Monday we'll finally find out who Rachel picks for a husband in the three-hour Bachelorette finale, at 7 p.m. ET on ABC.