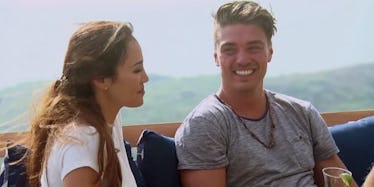 'Bachelor In Paradise' Danielle L. Opens Up About Dean: I've Never "Felt So Disrespected"
ABC
Probably the most talked-about story to come out of this past season of Bachelor In Paradise was the messy and can't-look-away love triangle between Dean Unglert, Kristina Schulman, and Danielle Lombard. Dean and Kristina had a thing going, he went for D-Lo, Kristina went home. The rest is history. But how does Danielle feel about it all now? In an exclusive Us Weekly Danielle L. interview about Dean and her BIP experience, she's opening up about where they stand and why she's "disappointed" in how things went down. Danielle explained,
I'm definitely frustrated with him. I think he's been very dismissive of our relationship and continues to allude that he only pursued me because of my looks. I've never been in a position or a relationship where I've felt so disrespected by someone. It's frustrating because he told me he would have my back and stand up for me but at the end of the day, he just saves himself instead of being honest about things. It's a lesson learned moving forward. I don't hate him but I am disappointed.
Danielle has been making the press rounds and doing the interview circuit, even appearing on Ellen alongside Dean and Kristina last week. She also called Dean out on the BIP reunion special, admitting he called her mere hours after they left Paradise. This revelation didn't exactly help Dean's case to win back the hearts of Bachelor Nation. Danielle elaborated on her relationship with Dean outside of Mexico to Us Weekly. "I think it was five minutes after I put my bags down that I got a phone call from him," she says. And even though there were multiple hang-ups before they spoke, the Los Angeles business owner says she was honest with him about how she felt.
I said, 'You don't know what you want. You made a complete fool of me on national television. You literally told me you loved someone else and now you're calling me saying you want to hang out. I just don't understand your thought process.' He told me that he was encouraged to say those things. I just think it was his way of saving face at the end of Paradise. He came over to my hotel room and we talked some more.
Lombard also says that the pair began to spend time together when they returned to California and she thought their relationship was "was going in the right direction."
Danielle hasn't exactly been shy about speaking her mind, even taking to social media to set the record straight about Dean, because why not? She recently posted an Instagram photo of the two of them with the intention of showing audiences that there was more between the pair than met the viewers' eyes. Good for her for allowing herself to be emotionally vulnerable and for reminding everyone that a person can want to "have fun" and also want to settle down when the time is right.
And what about Dean and Kristina? Despite everything that went on, Kristina and Dean are still close, apparently talking "every single day," and figuring out where to go from here. Danielle doesn't hold anything against Kristina, but it doesn't sound like she and Dean have too much of a romantic future.
No matter what, we wish the Danielle the best in all her post-Paradise endeavors. And even though she doesn't feel like Dean has always got her back, we're hoping her fellow BIP ladies and the loyal members of Bachelor Nation are all about seeing her happy. And who knows? Maybe we'll get to see her on TV again in the future. There's always the Winter Games...