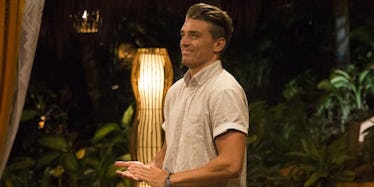 Fans Booed Dean At The 'Bachelor In Paradise' Reunion & TBH, We Don't Blame Them
ABC
After a season of fans hating Bachelor in Paradise contestant Dean Unglert from behind their keyboards, they finally got to vocalize their distaste for the season's resident playboy at the reunion finale on Monday night. While Chris Harrison was introducing each BiP contestants to cheers and applause from the live audience, there was one contestant that got a notably cold reception. Unsurprisingly, Dean got booed by the Bachelor in Paradise audience for his actions with Kristina and Danielle throughout the season, and he definitely seemed shaken by the swift shift in affections from Bachelor Nation.
It was incredibly clear that the viewers sitting in the audience were not having it from Dean at the reunion. No matter how much Dean tried to win back the fans' affections by voicing how sorry he was for stringing along both Kristina and Danielle throughout the season, nobody in the crowd was ready to forgive him yet... including Kristina and Danielle. Kristina told him that she hopes he won't treat the next girl he dates the way he treated her, and Danielle dropped the bombshell that although Dean left Paradise by tearfully revealing to Danielle he was in love with Kristina, he called her shortly after filming ended and pursued a relationship with her again. Yikes, not a good look, Dean...
And the Dean-hate didn't just come from the room. Bachelor Nation reacted gleefully to Dean's booing online. Check out some of the best tweets rejoicing Dean's cold reception in the finale below:
But one positive thing Dean did do is show the crowd that he agreed with the negative reception he was getting. Dean actually joined in with the crowd and booed himself after he was introduced.
This certainly isn't the first time Dean has received backlash from Bachelor Nation for his antics on this season of Bachelor in Paradise — in fact, it more felt like just the tip of the iceberg after a season almost defined by fans turning on Dean for his flippant, wishy-washy treatment of both Kristina and Danielle. Dean actually came into the season as one of the most popular fan favorites after his turn on Rachel Lindsay's season of The Bachelorette. He entered into what seemed like a strong relationship with Kristina almost right away, and it looked like the pair was going to make it to the end together until Danielle entered Paradise the next week.
After Dean accepted a date from Danielle, he spent the rest of the season juggling his relationships with both women in front of them, and never making a decision between them. This not only made fans upset, but it also hurt Kristina and Danielle. Kristina actually wound up choosing to leave the show after continually trying and failing to make a relationship with Dean work, and when Danielle assumed Dean was going to ask her out on the show's final date, he instead told her he was in love with Kristina and left her in the dust. None of it came off very well for old Dean...
After the frustrating love triangle with Dean at the center, it became clear who Bachelor Nation was going to celebrate and who they were going to hate, and that was exemplified by the receptions Dean and Kristina respectively received at the finale. After Dean received a wave of boos from the crowd, the audience erupted in the loudest cheers of the night when Chris Harrison introduced Kristina. So, it looks like we definitely have a new Bachelor villain, and a new hero in the franchise as well. I don't know — I think that obvious fan love for Kristina could add up to her even becoming the next Bachelorette! We'll see...