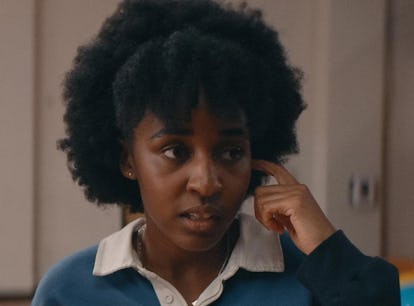 Ayo Edebiri's Dad Posted His Review Of Bottoms & It's So Wholesome
Like daughter, like father.
Metro-Goldwyn-Mayer
Ayo Edebiri's father is following in his daughter's footsteps when it comes to sharing hilariously viral movie reviews. As fans of Edebiri well know, the actor and comedian is something of a legend on the movie review app Letterboxd. But her dad also has an account, and he recently used it to share his thoughts on Bottoms, the teen comedy starring his daughter.
As the fandom around Bottoms has exploded following its digital release on Sept. 22, movie lovers have discovered a very special review of the new film. Dele Edebiri, the father of Bottoms star Ayo Edebiri, wrote a rave on his Letterboxd account, and it's brimming with proud dad energy.
"Bottoms, starring Rachel Sennott (PJ) and Ayo Edebiri (Josie), is directed by Emma Seligman. It is one of the best comedy I have seen all year. In the interest of self disclosure, Ayo is my daughter," Dele wrote. "PJ and Josie are two lesbians who decide to start a fight club, so that they can attract pretty cheerleaders. With the football game against a long term rival in the background, the comedy just keeps coming until the end. Get your popcorn ready, you will love it."
It appears Dele started his Letterboxd account at the end of 2020, possibly inspired by the success of his daughter's viral Letterboxd reviews.
Several of Ayo's movie reviews have blown up on the internet, with fans celebrating her blunt, stream of consciousness takes on popular films. Most recently, her reaction to the 2023 surrealist horror movie Beau Is Afraid went viral, as she pleaded for director Ari Aster to seek out spiritual help.
Ayo also wrote a review for Bottoms, simply posting, "I'm in it with my friends so."
Of course, Ayo is known more much more than just her pithy Letterboxd posts nowadays. Several sites and fans have dubbed 2023 Ayo Edebiri's year. Along with Bottoms, the rising star also stole scenes in Theater Camp, Teenage Mutant Ninja Turtles: Mutant Mayhem, Abbott Elementary, and Black Mirror, as well as earning an Emmy nomination for her role in Season 2 of The Bear.