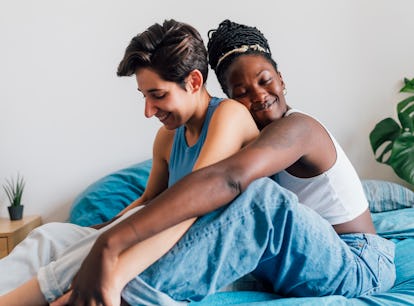 11 Tips For Keeping Your Lesbian Relationship Strong
Westend61/Westend61/Getty Images
Fantasizing about the perfect relationship is easy. Maintaining a successful relationship? Less easy. Maintaining a successful lesbian relationship? That comes with its own specific set of challenges and triumphs. All relationships take dedication and work (mixed in with ease and fun) but a WLW (women who love women) relationship can require a specific kind of TLC. "I often say that lesbian relationships can be the best relationships on the planet — but because two women can bond so quickly and go so deep, our relationships can also take more skill to navigate," says Ruth Schwartz, director of the Conscious Girlfriend Academy, a digital education platform for lesbians.
It's true, we love hard. She adds, "Frankly, you can have a ton of attraction, chemistry, and things in common, and still [struggle with your] relationship."
Lesbian couples can benefit from the same universal relationship advice given to straight couples. But according to three experts on the subject, there are a few specific tips that can be helpful to keep in mind if you'd like to strengthen your bond with your girlfriend. They spilled the tea on how to keep your lesbian relationship healthy, sexy, strong, and thriving.
Oh, and don't hog the remote. May the sapphic goddesses smile upon your relationship.
Experts:
Ruth Schwartz, director of the Conscious Girlfriend Academy
Jordana Michelle, a lesbian love coach and the founder of WomenLovingWomen.com
Zara Barrie, author of Girl, Stop Passing Out In Your Makeup and creator of Girls on Jane