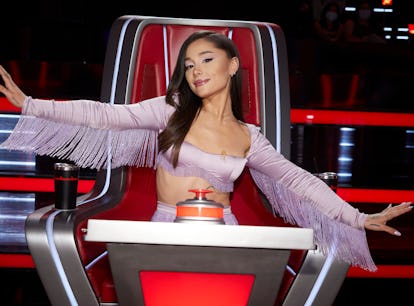 Yes, Ariana Grande Knows You Hate The OG Yours Truly Album Cover
"You were like, 'This is f*cking ugly, change it.'"
NBC/NBCUniversal/Getty Images
The power Arianators hold is massive. The fanbase have consistently showed up for Ariana Grande over the years, especially when it comes to her music. At one point, her stans tried to dethrone "7 Rings," which debuted at #1 on Billboard upon its release in 2019, so that "Break Up With Your Girlfriend" could take its place. Yes, their unwavering loyalty is that serious. Even Grande is aware of their dedication, and she recently proved that when talking about her decision to change her Yours Truly album cover.
On Aug. 28, Grande posted a Q&A on TikTok as part of her Yours Truly re-release rollout. Around the 40-second mark of the video, she read a question that asked "why she changed the album cover" to its current one. IYDK, the black-and-white art on the 2013 album wasn't always the original choice. Grande's initial pick was a pink, almost washed out shot of her sitting on a bed of flowers.
According to Billboard, the singer revealed the pink-hued album cover in a now-deleted tweet. Fans weren't pleased with this art and Grande heard their feedback loud and clear. Days before Yours Truly released, she quietly switched the cover to its current one of her posed under a white light.
In her TikTok, Grande shared the backlash influenced her to change the cover. "Well, it's horrible. It's not horrible, but... you were right," she said, before showing the now-scrapped cover art on a piece of paper. "You guys got very angry when you saw it."
She then said she was "sad" about the feedback, almost hinting she was a fan of the original cover at one time. However, Arianators' response (while brutally honest) made her realize she could create something more iconic. With a tracklist such as Yours Truly, it surely needed an impressive aesthetic.
"You were right. You're not always right, but your bullying has been consistent for the past 10 years," Grande joked about her fanbase. "You hated it, you were like, 'This is f*cking ugly, mom, change it.' So I did. Sometimes that works. Sometimes it leaves me with wounds that've made me question everything I've done since. Just kidding."
This wasn't the last time Grande listened to her fans' reactions about Yours Truly. On Aug. 25, the same day she released the re-recorded version of the album, many fans marveled over the new artwork. While some loved its blue hue, others couldn't get over one small detail. Several users on Twitter noticed a white outline across the top of the cover, almost as if it was cropped from a white slate. After enough complaints, it appeared Grande's team fixed the art.
It seems Arianators played a bigger part in Yours Truly than they realized.