We're On Honeymoon Avenue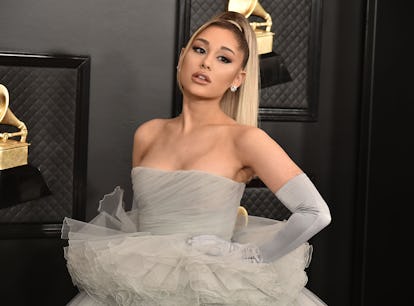 Ariana Grande's Yours Truly Re-Release Has Fans In Their Feels
"I wasn't psychologically prepared for this."
David Crotty/Patrick McMullan/Getty Images
This is one musical hiatus fans have wanted to end. It's been nearly two years since Ariana Grande traded her pop crown for Oz's most notable witch hat. Luckily, Arianators didn't have to wait another year to hear her signature "yuh's" and whistle high notes again. On Aug. 25, Grande dropped a re-recorded version of her debut album, Yours Truly, for its 10th birthday. So far, fans have embraced this release with open arms and nostalgic tears, as this album introduced how iconic Grande's talent is. And let's just say, she's *still* a vocal powerhouse a decade into her career.
Grande began teasing her sonic comeback on Instagram earlier this month. On Aug. 8, she posted some orchestral sheet music for three Yours Truly tracks. She also captioned it "almost ten," alluding she had something exciting in the works. She then confirmed the news a week later, and posted a retro-inspired teaser of her re-recording lineup. To kick off the celebration, Grande released the full reimagined album and two live performances of "Honeymoon Avenue" and "Daydreamin.'"
Aesthetic-wise, Yours Truly was the singer's finest tribute to the 1950s, where barrel curls and doo-wop instrumentals reigned supreme. She came in full apparel during her live performance, donning a half-up-half-down ponytail and a two-piece set. That vintage intrigue also carried over to the album's reworked arrangements, especially on "Honeymoon Avenue." Instead of relying on the track's slow, yet still retro production, Grande took it up a notch by adding a chirpy touch to it.
Similar to her live performances, Grande's vocals on the actual album are wickedly powerful. Her range has always been ludicrously impressive, and with her recent time as Glinda, it's evident she's fine-tuned her voice and infamously slurry enunciation. Fans also agreed her tone has aged like fine wine, as she's still acing those piercing high notes in tracks like "Baby, I," the Big Sean-assisted "Right There," and "The Way" featuring Mac Miller.
Grande's acrobatic vocals weren't the only highlight of the album. Those who listened to the record on YouTube noticed the singer left a subtle tribute to her ex-boyfriend Mac Miller, who passed away in September 2018. At the end of the video, she left his name highlighted on the black screen. BRB, currently sobbing.
This is only the beginning of Grande celebrating this era. In the following weeks, the singer will release four more live performances and other behind-the-scene surprises. Though fans might have to wait for those gems, it's clear they're already living for this first offering.
Check out the best reactions to the singer's Yours Truly live performances, below:
She's been highly missed.
The last time Arianators awaited a midnight release was for 2021's Positions.
Fans couldn't handle Grande's heartfelt Instagram tribute to her re-recording.
I'm not crying, you are!