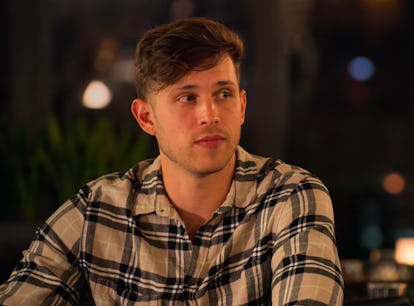 Antonio Admits He & Kat Didn't Connect On The Ultimatum
"It felt more like friends."
Netflix
Spoiler alert: This post details events from the first eight episodes of The Ultimatum Season 2.
The premise of The Ultimatum is famously messy. The show expects contestants to break up with their longtime partners and immediately explore a relationship with a complete stranger... who also just dumped their significant other. Surprisingly, some of these trial marriages actually lead to genuine feelings, but for Antonio and Kat, there was never a real connection. Looking back on his experience, Antonio tells Elite Daily that he felt "more like friends" with Kat throughout their trial marriage, and that he may have been more challenged had he chosen someone else.
It was pretty clear to Ultimatum viewers that Antonio and Kat weren't exactly clicking in the same way some of the other trial marriages were. No, they weren't as disastrous as James and Riah's awkward relationship, but they also never got as close as Roxanne and Alex or Trey and Ryann did. "I don't think we connected," Antonio says of his time with Kat. "It felt more like friends."
Despite their lack of connection, Antonio does think they both grew from their experiences together. "Both of us felt like we were in a really safe environment," he says. "I got to practice being a better partner as far as being thoughtful and planning dates, and she learned how to kind of stand up for herself a little bit more."
He continues by saying he doesn't regret choosing Kat for his trial marriage, but there was someone else he was interested in asking to be his fake wife. "Lisa and I had some really good dates," Antonio says. "I didn't laugh with anybody like I laughed with Lisa, that's for sure. I definitely am curious to have seen how we would have worked, because she reminds me a lot of Roxanne. She's driven, she knows what she wants. She's not like Kat. I think that I probably would've been more challenged by somebody like Lisa."
Of course, Antonio didn't even have the option to pick Lisa for a trial marriage since she exited the show due to her pregnancy. But even if she had stayed, it doesn't sound like a future for Antonio and Lisa would have been in the cards. Lisa tells Elite Daily that she was planning to choose Trey for her trial marriage. Oh, what a different season this might have been!