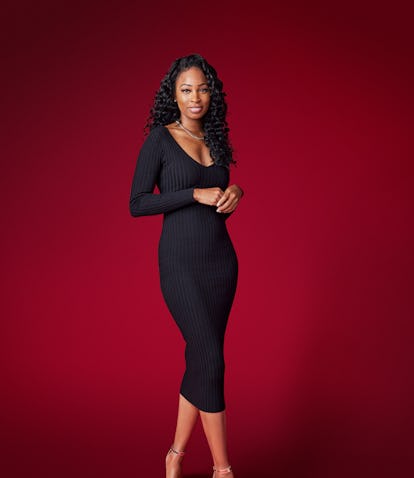 Lisa Horne's Ultimatum Stint Was Short But Dramatic
Netflix, meet reality TV gold.
Netflix
Spoiler alert: This post contains spoilers from the first two episodes of The Ultimatum Season 2.
Lisa Horne came on The Ultimatum Season 2 to stir things up. She and her boyfriend, Brian Okoye, Brian went on the show after a year and a half of dating without any serious commitment from Brian. Though Lisa was ready to settle down and start a family together, Brian felt unsure due to "Lisa's jealousy issues and her tendency to turn disagreements into explosive arguments," according to Netflix. Though he had grown closer with Lisa's 10-year-old daughter, he was still hesitant to pop the question, leading Lisa to issue the ultimatum.
The couple only appears in the first two episodes of Season 2 before a shock twist cuts their Ultimatum journey short: Lisa found out she was pregnant with Brian's baby. But before the couple left the experiment to focus on their budding family, there was plenty of drama to keep viewers entertained. Specifically, Lisa had a problem with Brian getting to know the other women on the show. "I'm tired of giving my f*cking life to you," Lisa yelled at Brian in front of the whole cast, during the dating portion of the show, upset by his openness to flirt with the other contestants (even though the premise of the show is to enter a trial marriage with someone who is *not* your current partner, all whilst being guided by the infinite wisdom of Nick and Vanessa Lachey).
Since Lisa and Brian realized they were expecting a baby, however, the drama seems to have cooled down. They seemed happy leaving the show together and haven't shared any updates on their personal social media pages since. If you're eager to learn more (and don't feel like waiting for the reunion), here's everything to know about Lisa in real life.
The Ultimatum's Lisa Horne's Instagram
Lisa had over 17,000 IG followers before The Ultimatum Season 2 started airing, and her bio summed up her professional and personal pursuits: "VP. Believer. Philanthropist." She mostly uses her Instagram to post selfies, but adds in the occasional career update, like walking in Miami Swim Week and getting cast on The Ultimatum. Lisa also has a TikTok account, though she rarely posts there.
The Ultimatum's Lisa Horne's Real Job
According to her Netflix cast bio, Lisa works as a Vice President of Clinical Services. Currently, she's employed at Five Star Senior Living, per her LinkedIn. She's a registered nurse and has a Bachelor of Science in Nursing. She's also affiliated with the Noelle Foundation, a non-profit focused on women's empowerment.
The Ultimatum's Lisa Horne's Age
At the time of filming, Lisa was 32. According to her Instagram, she's a Gemini and celebrates her birthday in June.