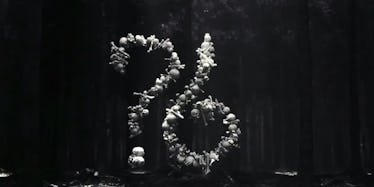 The Latest 'American Horror Story' Promo Features Lady Gaga's New Song
FX
The season six premiere of "American Horror Story" is less than a week away, but we will Not. Stop. Guessing. Themes. until episode one drops next Wednesday.
So far, fans and media outlets have floated the following theories amid the release of 20 "AHS" promos of varying themes.
1. "Texas Chainsaw Massacre" 2. The Lost Colony of Roanoke 3. The Manson Family 4. Ancient Satanic Cult 5. "The Mist"
A tweet from the the FX show's verified account compiled all the pre-existing season six promos to the tune of Lady Gaga's "Perfect Illusion" in a last ditch effort to keep fans confused leading up to next week's big reveal.
Honestly, Ryan Murphy, "AHS" viewers appreciate the theatrics, but we are thirsty for details. Your audience is overwhelmingly Millennial, and we, as a demographic, have crippling control issues that make diversions like this a complete nightmare.
Is that the theme? Diversions? Does this season take place in an internet labyrinth? JUST GIVE US ONE JUICY HINT, RYAN.
Unless… OK, yes. OK. Gaga's song is the juicy hint. This season's theme is ~illusion~.
Sarah Paulson plays a "Magic Eye" book and Taissa Farmiga returns as one of those drawings that's an old woman right-side up and a young woman upside down.
Cool, fine. As long as Taissa is back, "AHS" devotees can stand to wait another five measly days to see more.
This agreement is, of course, conditional on Taissa's confirmed involvement.
LAST CHANCE, TAISSA. JUST GIVE US A SIGN YOU'RE IN. PLEASE.
PLEASE GIVE US A SIGN.
OUR HEARTS ARE WEAK AND OUR BONES ARE SOFT LIKE TURKEY GIBLETS WITHOUT YOU, TAISSA.
COME BACK. PLEEEEEASE.
TAISSAAAAAAAA!!!
Citations: 'American Horror Story' promo set to Lady Gaga's 'Perfect Illusion' (Mashable)