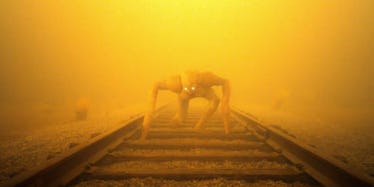 Thanks To A Leak, We Know The Theme Of 'American Horror Story' Season 6
YouTube
Either the theme of "American Horror Story" season six has been accidentally revealed, or the 20 promos released by FX have thrown fans and media so turned around we'll never guess it before the September 14 premiere.
So, yeah, THE STAKES ARE P. HIGH.
As promos have been released over the course of the past few weeks, Ryan Murphy and co. have insisted only one of them accurately represents the season six theme, and boy-oh-boy do these teasers cover a lot of ground.
There's this class of corn babies.
An entire "Children of the Corn" season feels exhausting, tbh.
There's this murder doll.
She's VERY "Annabelle," suggesting we could be in for a season full of demented toys and objects a la "The Conjuring."
There's this creepy-ass field family.
Hard to say what the living fuck is going on, here.
There are these beautiful crop circles.
Aliens! Ahh! "Signs" star Abigail Breslin is currently one of Ryan Murphy's darlings, thanks to "Scream Queens." Perhaps she'll make a crossover appearance.
There's this pitchfork madness.
"Texas Chainsaw Massacre"? "Deliverance"? A poltergeist fucking shit up at the Pitchfork Music Festival? SURE!
There's this gross tub monster.
Oh, fun. A full "AHS" season devoted to my personal shower drain.
There's this swamp thing who loves to dunk.
You just know they're not doing a "Creature from the Black Lagoon" season.
There's this beige nightmare crawling out of the fog.
This foggy promo may be the one true hint at season six's theme, according to Cosmopolitan.
Both Rotten Tomatoes and a print copy of "TV Guide" billed the upcoming season as "American Horror Story: The Mist."
Though Rotten Tomatoes has since changed the season title to "American Horror Story," their initial reveal could mean the latest installment in the series will honor the Stephen King novella in which a town is engulfed in a mist full of threatening creatures.
In the event the Roanoke set photos leaked earlier this summer were not meant to simply serve as a diversion for curious fans, the town victimized in RyMurph's version of "The Mist" could very well be the colonial settlement.
One of the creatures to emerge from the mist had better be ya girl T-A-I-S-S-A.
Seriously, Taissa Farmiga, if you're seeing these articles, just come back. Come back to the show, you twinkling bulb of star power.
You can play a mist monster! You can play a colonial butter churner! You can play gd "Opposites Attract"-era Paula Abdul if it means you'll come back.
JUST. COME. BACK.
Please. Okay? PLEASE. PLEASE. PLEASE. PLEASE. PLEASE.
TAISSAAAAAAAA!!!
Citations: These Publications Might Have Just Spoiled the Theme for the Next Season of "American Horror Story" (Cosmopolitan)