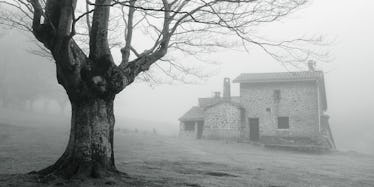 These New Set Photos From 'American Horror Story' Are Fueling Major Theories
Shutterstock
Ryan Murphy has accomplished some major feats thus far, and, let's face it, we're better for it.
Launching Lady Gaga's acting career? Thank you, Ryan Murphy. Creating a platform for a whole new generation to fall in love with Jessica Lange? Thank you, Ryan Murphy. Every bitchy one-liner from "Scream Queens"? Thank you, thank you, thank you, Ryan Murphy.
Now, RyGuy is attempting to solve 400-plus years of spooky, colonial mystery, NBD.
Photos obtained by TMZ from the set of "American Horror Story" season six show creepy cabins and a tree with "CROATOAN" carved into the side.
Even those of us who spent most of ninth grade history writing angsty song lyrics in the margins of our notebooks remember enough about the ill-fated Roanoke colony to recognize its likeness in these photos.
BUT JUST IN CASE YOU NEED A REFRESHER:
Roanoke, aka "The Lost Colony," was an English settlement in late 16th-century North Carolina. One day in 1590, explorer-turned-Governor John White returned to the colony from a trip to England to find all 118 members missing without any sign of struggle.
Fires still burned and food sat out as though residents abandoned the colony mid-task. The only clue was the word "CROATOAN" — the name of a local native settlement populated by the Hatteras Indians — carved into a wooden post on the premises.
SPOOKY SPOOKY WAH WAHHHH, RIGHT GUYS?
According to the celebrity gossip site, members of the "AHS" cast have been spotted in colonial costumes, too. Ryan Murphy has either created an insanely elaborate diversion to keep the theme of season six secret, or Roanoke is hap-pen-ing.
These photos certainly squash the "Texas Chainsaw Massacre" rumors that circulated after season six's teasers were released last week.
TBH, I'm just excited to see Gaga in those buckle-y shoes.
Citations: AHS NEW SET PHOTOS HINT AT LOST COLONY (TMZ)