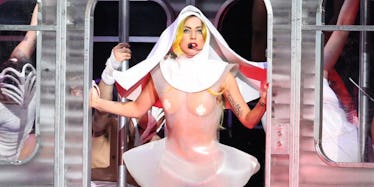 The First Teasers For The New Season Of 'American Horror Story' Are Finally Here
Shutterstock
Calling all fans of both horror and complaining about television's unconscionable lack of Jessica Lange. Your time has come again.
On Wednesday, Vice's Discover Snapchat featured some creepy, vague teasers for season six of "American Horror Story."
While the spooky imagery is much appreciated, it's still pretty unclear what the season's motif will be.
Hotel? Been there. Freakshow? Been there. Coven? Been there. Asylum? Been there. Murder house? Been there and back and there again because season one was an unparalleled masterpiece.
Fans are already speculating more wildly than a damn "Jumanji" stampede.
@gagamonster96 @PaulSemaan_ Texas chainsaw massacre??? — Johnny Boy (@electropoplover) July 27, 2016
@Y0unGLOveeee @gagamonster96 the theme is forest. Gaga's role is an evil fairy — grp (@gilangrzkp) July 28, 2016
me trying to figure out the theme #AHS6 pic.twitter.com/WUbhMd7OO2 — ️ (@stonemsus) July 27, 2016
#AHS6 is gonna be so good !! pic.twitter.com/AeorBtcVQZ — ㅤ (@grandesfilter) July 27, 2016
Coz I may die!!! #AHS6 pic.twitter.com/6mMMc3vHRZ — Drew Ryan Scott (@drewryanscott) July 27, 2016
@gagamonster96 omfg I think taissa is coming back @VixxyYT pic.twitter.com/GTmlwQs2XO — Gamer98 (@screamqueens98) July 28, 2016
@gagamonster96 omfg its the cripiest teasers ever omfg . Chainsaw omfg help me lord I am gonna faint pic.twitter.com/6V5a5GSDbU — Gamer98 (@screamqueens98) July 27, 2016
Be it summer camp, chainsaw massacre or some sort of "Courage the Cowardly Dog" mess, the rumored return of Taissa Farmiga will keep us STRESSED with anticipation until season six airs on September 14.
Citations: The New American Horror Story Teasers Are Here: Let's Guess What They Mean (Refinery 29)