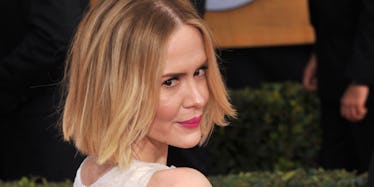 'American Horror Story' Star Totally Squashes Huge Rumors About Season 6
Shutterstock
Hopelessness overcomes us all as we struggle to cling to the scraps of knowledge we've collected thus far.
Never forget what you've learned. Never forget what you've seen. Never forget the promotional posters and leaked set photos from season six of "American Horror Story."
Sarah Paulson chatted with Entertainment Tonight at the Television Academy's Performers Peer Group Celebration for the Emmy Awards on Monday and admitted a Charles Manson-themed season of "American Horror Story" is off the table.
She told ET,
You can look me right in the eye. You are wrong. Dead. Wrong.
OK, BUT, SAR, can we at least admit Charles Manson isn't season six's theme while still expecting one of the upcoming episodes to reference or depict his crime at some point?
Leaked "AHS" set photos mirroring crime scene snaps from the house Sharon Tate and husband Roman Polanski were renting the night they were murdered are so, so, so hard to ignore.
If the ancient Satanic cult theories people have been floating hold up, Sarah's insistence the entire season doesn't revolve around the Manson family could be true while still keeping Ryan Murphy's overall theme a secret on a technicality.
Another explanation for set photos so closely resembling crime scene pics is the possibility Murphy and his crew have been intentionally leaking fake set photos (including those alluding to a possible Roanoke theme) all along.
We all want to trust Sarah Paulson.
She always gives us her best. Our girl is nominated twice at this year's Emmys, for "American Horror Story: Hotel" and "American Crime Story: The People vs. OJ Simpson."
We also want to trust our own two freaking eyeballs.
Honestly, whatever. As long as Taissa Farmiga hears our cries and returns to the miniseries, season six can take place in a GD McDonald's ball pit for all we care.
TAISSA, DO YOU HEAR THAT?
WE WILL TAKE YOU IN ANY WAY, SHAPE OR FORM. OR BALL PIT.
JUST COME BACK, TAISSA. PLEASE, YOU MYSTICAL SUNBURST.
TAISSAAAAAAAA!!!
Citations: EXCLUSIVE: Sarah Paulson Dishes on 'AHS' Season 6 and Reveals Girlfriend Holland Taylor Won't Be Her Emmy Date! (Entertainment Tonight)