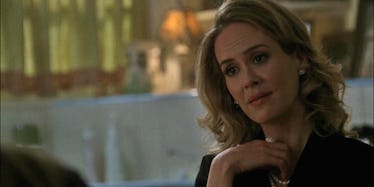 Here's The First Connection To The Upcoming Season Of 'American Horror Story'
FX
RYAN MURPHY HAS BEEN OBSESSED WITH COLONIAL MYSTERY FOR THE ENTIRE RUN OF "AMERICAN HORROR STORY," Y'ALL.
And in season six, his grandest nightmares come to fruition.
A clip from season one, arguably the best season of this dang show, gives "AHS" fans a little history lesson on — what's that? — FREAKING ROANOKE, OBVIOUSLY.
Sarah Paulson's character, psychic Billie Dean Howard, explains the spirit world to Taissa Farmiga's character (YASSS TAISSA! COME BACK, TAISSA!), Violet, via the tale of the Lost Colony of Roanoke.
Yesterday, photos from the set of season six surfaced, including a snap of wood carving reading "CROATOAN."
If you're unfamiliar with the story of Roanoke because you were cool in high school or whatever, I already explained it here. Also, Wikipedia exists for this exact sort of situation, but don't let me tell you how to live your life/absorb basic US history.
With the theme all but confirmed, there will hopefully be a few more connections made between season six and the five that preceded it.
Also, some Taissa.
Hopefully.
Let's just, IDK, play it cool.
And she'll come back.
Or whatever.
Don't care.
Either way.
…TAISSA, FOR REAL. COME BACK. WHY ARE YOU DOING THIS? JUST COME BACK. TAISSAAAAAAAA!!!