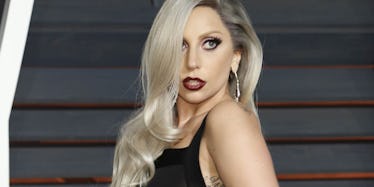 Lady Gaga Just Dropped Her First Single In 3 Years And It's Amazing
Shutterstock
Guys. She's back and better than EVER.
Our Mother-to-the-Monsters, Lady Gaga, just released a new single and we already can't stop singing it.
The catchy tune is called "Perfect Illusion," and it basically sums up all of our love lives in one chorus, proclaiming, "It wasn't love, it was a perfect illusion."
How you do know us, Gaga?!
Not only are the lyrics relatable, but the music is super upbeat and and features a pulsing drum kick that'll make you want to dance your way to work this morning.
According to Billboard, Gaga produced the song alongside iconic industry players such as Mark Ronson, Tame Impala's Kevin Parker and Blood Pop, who is known for his work with Justin Bieber and Grimes.
Needless to say, they're a music dream team.
Lady Gaga talked to Billboard during iHeartRadio Music festival about her new hit:
The song is about modern ecstasy... We found our sweet, simple, ragey way of saying it... I get this sick adrenaline rush every time I hear it."
I do too, Gaga -- in fact, it's already stuck in my head.
Excuse me while I go listen 25 more times.