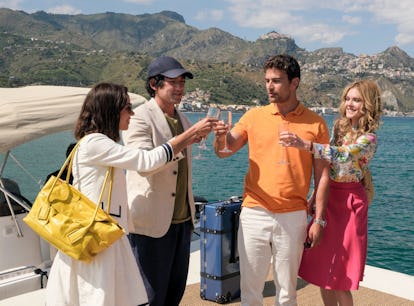 Wait, Did Johnny Knoxville Just Reveal The White Lotus Season 3's Location?
Well, this is unexpected.
HBO
The White Lotus fans aren't taking a vacation from their favorite show. Right after Season 2 concluded at the end of 2022, superfans got to work trying to figure out where Season 3 will take place. Thankfully, showrunner Mike White helped narrow down the search to one continent in particular, and a lot of eyebrow-raising clues have been popping up that could point to the next luxurious destination. So, to help you plan your next murder-filled getaway, here are all the White Lotus Season 3 location theories so far.
After rampaging through Hawaii and Sicily, the new group of privileged White Lotus resort members will be looking to the east for their vacation. White heavily implied Season 3 will be set somewhere in Asia during his behind-the-scenes interview that aired after Season 2's finale. "I think the third season would be maybe a satirical and funny look at death and Eastern religion and spirituality," White mused. Since then, fans have noticed telling comments both within the show and outside of it that point to different areas in Asia that could very well turn out to be Season 3's setting. Here are all the major theories about where the new season will take place.
1. Tokyo, Japan
This theory came courtesy of a totally unexpected source: Jackass ringleader Johnny Knoxville.
During a Feb. 16 interview with Vulture, Knoxville seemed to spill the beans about where his good friend White was filming the next season of The White Lotus. "Mike White is a very close friend of mine. He and I had been in Tokyo together. I think that's where the next … oh, I'm not giving anything away," Knoxville said. "I might call him again as soon as this is over."
2. The Maldives
Perhaps the most prominent theory came from a small line in the Season 2 finale. On the last night of their stay in Sicily, Daphne proposed a toast with Cameron, Harper, and Ethan, exclaiming: "Next year, the Maldives." Once White mentioned the theme of Eastern religion for Season 3, this toast took on much more significance for fans, who began to theorize the line was added as an Easter egg nodding to the show's next setting.
3. Thailand
White introduced another major theory when he recorded a video at the start of 2023 shortly after Season 2 finished airing. In the clip, White shared that he was at a resort in Thailand, immediately setting off fan alarms that Season 3 must take place there.