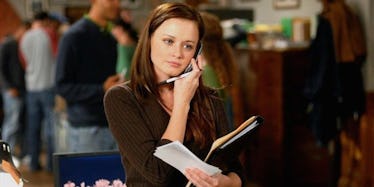 Alexis Bledel Opens Up About Rory's Love Life On 'Gilmore Girls' Revival
Warner Bros.
We've all been not-so-patiently waiting to find out what happens when the beloved women of Stars Hollow finally walk back into our lives on the "Gilmore Girls" revival.
Yesterday, we got to see the very first living proof the revival is real -- other than the fact it was confirmed and almost all of the actors have given interviews.
Just 10 days left on GG. I'm so proud of what we've done but don't want it to end so obviously I've started stealing things from set. — Lauren Graham (@thelaurengraham) April 28, 2016
Yep, now we finally have a "Gilmore Girls: A Year in the Life" trailer, and it will give you all the feels.
November 25: Miraculously, a date that absolutely no one in Stars Hollow has a conflict with. #AYearintheLifehttps://t.co/EIB96t54cF — Gilmore Girls (@GilmoreGirls) July 27, 2016
What the trailer won't give you, though, is the answer to the question we've all been guessing at since Rory Gilmore left our lives as a single woman back in 2007: Who will she end up with?
We already know Dean, Jess and Logan all make appearances in the four-episode reboot. We also found out from actor David Sutcliffe, who plays Rory's dad Christopher, the winning guy is not Dean. He told USA Today,
I know they're not going to end up together but, Rory and Dean seem like a good couple.
Milo Ventimiglia, who plays Jess, told Elite Daily he surprisingly has always been "Team Dean," too.
On Wednesday at the Television Critics Association summer press tour, Rory Gilmore herself -- AKA Alexis Bledel -- finally weighed in on the great debate, saying,
I think it's kind of interesting that that's what people are excited about. There is so much more to her character. It's great when people focus on her ambition and accomplishments.
OK, so that was pretty much the most Rory Gilmore answer ever. We know you don't NEED a relationship, but that doesn't answer our question.
She then added,
All of her exes make an appearance, and it was great to work with all of them... People's questions are answered, but we can't answer them today.
Rory was always better at keeping secrets than Lorelai. It looks like we'll have to wait until November 25 to see all of Rory's accomplishments... and, um, who she ends up with.
Citations: Alexis Bledel Reveals All She Can About Rory Gilmore's Love Life (Refinery29)