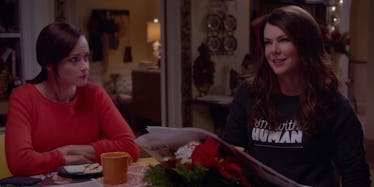 The First 'Gilmore Girls' Revival Teaser Just Dropped And It's Amazing
Netflix
Until today, the "Gilmore Girls" revival season has felt a little too good to be true, despite the fact it's a real thing that is fully, truly happening.
A new teaser is here and it's the perfect remedy for the skeptic in you that's worried you don't deserve anything as wonderful as the triumphant return of the Lorelais.
The teaser has timely references, you guys. Amy Schumer? John Oliver? The corpse flower? Magazines? Wait.
Okay, not the last one, but everything else is NOW stuff, people. Contemporary, newsworthy, clickable NOW stuff.
Don't stress, though. From what can be gathered in this teaser, the Gilmores are still exchanging snappy repartee over coffee in Stars Hollow, the impossibly picturesque New England town of our dreams.
The sacred status of our most beloved "GG" traditions remain intact as we see familiar characters existing in a Snapchat world and NO ONE CAN WAIT UNTIL NOVEMBER 25, SO JUST RELEASE IT EARLY, NETFLIX.
Sorry, sorry, sorry.
This is clearly going to be an emotionally tense couple of months, but we will get through it, together, with takeout and long talks.
Citations: Gilmore Girls' revival shares release date and teaser (Mashable)