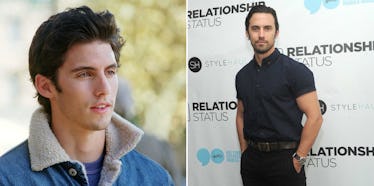 Milo Ventimiglia On Dating, 'Gilmore Girls' And Why He Isn't Team Jess
The WB/go90
"Gilmore Girls" went off the air in 2007, but to this day, the fans of the show are still obsessed.
No one knows that better than Milo Ventimiglia, aka Jess Mariano, whom I recently sat down with to discuss the new show he's producing and starring in, "Relationship Status," dating in the digital age and, of course, "Gilmore Girls."
Maybe it's because I watched "Gilmore Girls" every single day my senior year of high school, or maybe it's because he's a genuinely nice guy, but Milo's warm, welcoming presence immediately put me at ease.
We began our talk about "Relationship Status," a show Milo calls "relatable, humorous, heartbreaking and heartwarming at the same time." Following the lives of 20 and 30-somethings in Los Angeles and New York, this new scripted series (which can be watched on the go90 app) focuses on relationships in the era of Instagram, Twitter and Tinder.
He told Elite Daily,
There's so much to it that anybody can plug their own experience and references to to make it feel like it was plucked from their own life.
But, unfortunately for those of us whose lives include a whole lot of swiping, we're probably not going to find Milo himself on Tinder.
He continued,
[Dating apps] put the masses in front of you... It's almost like a rat race to find that one person, and it's almost that search that gets in the way of actually spending time with someone. Until you really sit and have face time, not screen FaceTime but actual, real, in a room, two people relating human contact, you don't know someone. You don't know if they're the right person for you. Apps separate us, and they make us depend on that instant moment of lightning in a box, gotta happen, if it doesn't happen, shatter the f*cking bottle.
Simply put, Milo prefers an old school approach to dating and tries to be "a little more analog in [his] personal life."
And speaking of old school, we had to talk about a certain guy named Jess.
Milo speaks of his "Gilmore Girls" character in a tender, big brother-ish way, saying,
The nice thing about Jess was he was trouble, but he wasn't out maliciously causing trouble. He was just kind of smart for his own good. He was older than his years. The thing that I always appreciated the most about him was as he got older, one of the last couple times we saw him, he had grown up. He still was Jess; he still had his sense of humor. He still knocked on the people who didn't take the opportunity to educate themselves with the best of music and culture and literature... He was a decent guy -- I always liked that about him.
But would Jess and Milo have gotten along in real life?
Milo, laughing, said,
I think Jess and I probably would've got along, but I think we would've looked at each other sideways... like 'I don't know about you, pal.' I don't know, or maybe I'm him.
Rest assured, Milo is just as excited for the "Gilmore Girls" revival as we are. He said,
I'm excited for the fans. I mean, truthfully… that has always been a project that has come back... reverently, for me. When fans are fans to their core, they get so excited and love things so dearly.
He continued,
I almost feel like the people that were in their teens and now in their late 20s… there's a new generation of people seeing that it's a great show and there are wonderful characters, amazing stories, for me, I get excited for the fans.
And as for what to expect from the revival, which comes out on Netflix later this year, Milo didn't want to reveal too much. He did, however, tell us,
It's all brand new. You're gonna see the same great characters that you love in new situations, exploring new things and reliving old ones.
I couldn't leave Milo without asking him the most burning question: Team Dean, Team Logan or Team Jess?
He told Elite Daily,
I'm always Team Dean. 100 percent...There was something about Dean and his earnestness and his wholesome approach to life. I saw a lot of myself in Dean. I always thought he was a really nice guy, a good guy. When you're that young, guys like that get walked all over. But when you're older, guys like that are the best, most honorable, most standup men that a girl could be around.
As for how he plans to watch the "Gilmore Girls" revival, Milo said,
I mean, that's four 90-minute movies. I'll probably take my time, get a break, get some food. I'm absolutely going to watch it, support my friends, support Dan [Palladino] and Amy [Sherman-Palladino]. It was a blast.
You can watch "Relationship Status" exclusively on the go90 app starting Friday, April 29.