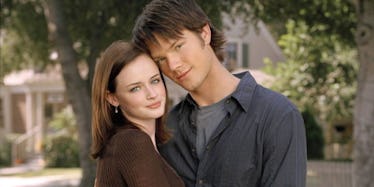 This 'Gilmore Girls' Actor Just Revealed Huge News About Rory And Dean
The CW
Did...did Rory Gilmore's dad really just let a "Gilmore Girls" revival spoiler slip?
If anyone was going to casually slide a spoiler into a standard interview, it probably would be Christopher.
So far, the team behind "Gilmore Girls: A Year in the Life" has kept a tight lid on all the questions fans want answered about this miniseries revival.
Questions such as: Will Luke and Lorelai get married? What will be Rory's career? And most importantly: Which boyfriend is Rory going to pick already?!?
Well, thanks to actor David Sutcliffe, aka Rory's dad Christopher, we have a pretty good idea of which boyfriends she won't pick, at least.
When asked by USA Today who he thought Rory should end up with, Sutcliffe responded that he was on Team Dean. He said,
I know they're not going to end up together but, Rory and Dean seem like a good couple.
Welp. Sorry Rory and Dean shippers, it looks like it's not going to work out!
Now, it's possible Sutcliffe was just referring to the fact that it didn't seem like Rory and Dean were getting together any time soon when he was on the show. Jared Padalecki wasn't even in the last two seasons, after all.
But, we already heard from another insider that Rory will end up with one of her exes in this revival, and Jared is only listed for one episode on the revival's IMDB page, so it does kind of seem plausible.
In that case, being able to eliminate Dean is huge.
I guess that leaves Logan and Jess! Don't worry, this reporter is going to remain unbiased.
Just kidding. TEAM JESS FOREVER AND EVER, AMEN!
Citations: We Now Know Who Rory Gilmore Won't End Up With (Refinery29)