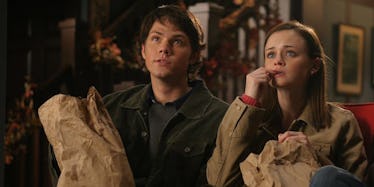 Here's What All Of Rory's Boyfriends In 'Gilmore Girls' Look Like Today
Warner Bros. Television
A few months ago, Netflix announced a "Gilmore Girls" revival was on its way, and fans freaked out.
Life just hasn't been the same without our favorite mother-daughter duo, Rory and Lorelai. Ever since the series ended in 2007, no television show has been able to fill the void left by the natives of Stars Hollow.
It looks like many of the characters are signed on for the series remake, including Lauren Graham, Alexis Bledel, Scott Patterson and Kelly Bishop.
We're super excited to relive our "Gilmore Girls" days with the cast, except it was revealed  one very important character will be missing. Unfortunately, Sookie (played by the brilliant Melissa McCarthy) was not invited.
I hope SO BADLY the writers get her in last minute because Stars Hollow won't be the same without her.
You know whom it also won't be the same without? All Rory's boyfriends. Yeah, remember them? What do you think Dean, Jess, Logan and Marty (HE COUNTS, OK?) are up to today?
Well, after a little investigating, we found out. Below, check out what all Rory's boyfriends look like today.
 Dean Forrester (Jared Padalecki)
Dean was the boyfriend with us from the beginning.
Remember when he first talked to Rory and admitted he liked to watch her read? HOW AWKWARD AND CUTE WAS THAT?
Dean was Rory's first real boyfriend, and they dated for a little over two seasons before they tragically broke up.
They had SO MUCH chemistry (and a bit of drama), but it was clear Dean loved Rory since the moment he first laid eyes on her. Young love, man. Young love.
Now, check out what Dean looks like today. It looks like he really grew up over the years. HELLO, GROWN-UP DEAN.
We better see this face during the upcoming episodes. Please, Dean?! Miss you.
Jess Mariano (Milo Ventimiglia)
Jess is definitely the bad boy of the group. He's a bit emotionally unavailable and slightly selfish, but we can't help but love him anyway.
Jess and Rory started dating after the dance marathon when Dean broke up with Rory.
There was an instant attraction between Jess and Rory, and that was obvious to everyone -- even Dean. *More dramaaaaa*
REMEMBER WHEN JESS AND DEAN BEAT EACH OTHER UP? Yeah, my ex-boyfriends fight over me all the time...
Here's what Jess looks like today. Look at how suave and sophisticated he looks in that suit. DAMN.
What an artsy guy. Jess, you came a long way.
Logan Huntzberger (Matt Czuchry)
At first, Logan was kind of a dick because he made fun of Marty for being the bartender at one of his parties. But after Rory gives him a hard time, she starts to warm up to him, and BOOM. The rest is history.
Ladies, say a friendly "hello" to your man, Logan. He's looking pretty fine, if you ask me.
Seriously, wow. So glad we found you again, Logan. If you need a workout buddy, call me.
Marty, aka "The Naked Guy" (Wayne Wilcox)
OK, OK. So, Marty and Rory actually never dated, but he liked her a lot at one point, so that counts for something, right?
They also were really close before Rory met Logan, so he WAS a major man in her life at the time.
Here he is today, the man of the hour. Welcome, Marty. So nice of you to join us.
Hopefully, Marty isn't still known as "The Naked Guy" in the adult world. As far as I can see, he looks pretty clothed...
Be sure to rewatch all the seasons of "Gilmore Girls" until the revival hits Netflix!