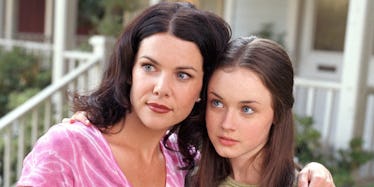 It's Time To Freak Out: New 'Gilmore Girls' Episodes May Be On The Way
Warner Bros. Television
For many girls, 2007 was a dark year.
Britney Spears was in the middle of a breakdown, flat caps were (sadly) all the rage, and everyone's favorite show, "Gilmore Girls," came to an end.
Since then, television has failed to fill the void left by the ultimate mother-daughter duo known as Rory and Lorelai.
But hold on to your hats, ladies (just, hopefully, not your flat caps), because Netflix may be reviving the beloved show.
According to TVLine, Netflix recently closed a deal with Warner Bros. for a limited series revival of "Gilmore Girls." The show will return with four 90-minute episodes, and original stars Lauren Graham, Alexis Bledel, Kelly Bishop and Scott Patterson are all expected to join the cast.
The show's creator, Amy Sherman-Palladino, and executive producer, Daniel Palladino, hinted at a revival over the summer during a cast reunion at the ATX Festival.
Sherman-Palladino said,
It would have to be the right everything — the right format, the right timing. If it ever happened, I promise we'll do it correctly.
The Palladinos left "Gilmore Girls" before its final season after long-running contract disputes. The show was subsequently canceled and never had the proper ending it so rightfully deserved.
We aren't the only ones excited for the Gilmore family to return to television. Check out a few Twitter reactions below:
I can't cry about Gilmore Girls because I'm at rehearsal this sucks ugh I JUST WANNA BE EMOTIONAL — Alyssa Paren (@forensicschic) October 19, 2015
The greatest news to wake up to... Gilmore Girls is coming back! — Amira Dayanara (@amiradynr) October 19, 2015
I just started crying in public because I found out @netflix is making new Gilmore Girls episodes. This is the best day of 2015. — lara buchar (@LaraBuchar) October 19, 2015
How @blue_eyedfloozy, @PeytonRatchford & I are reacting to the #GilmoreGirls news. pic.twitter.com/uwsBvXSIhH — Alexis Ratchford (@alexisratchford) October 19, 2015
Citations: 'Gilmore Girls' fans, sit down: Netflix is reportedly reviving the show (Mashable)