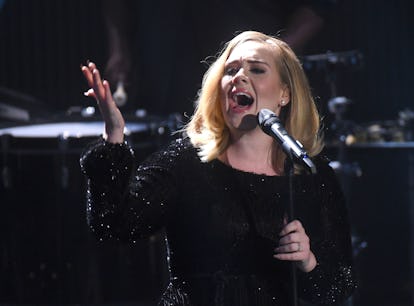 These 12 Adele Songs Will Instantly Make You Weep
Rumor has it I'm her biggest fan.
picture alliance/picture alliance/Getty Images
No other artist can get us in our feelings quite like Adele can. Each song in her discography explores deep themes that range from pushing past heartbreak to learning how to love yourself again. Her lyrics are so poetic and have the power to make fans sob because she always delivers them beautifully. In celebration of her latest hit, "Easy On Me," check out a list of 12 of Adele's most emotional songs.
But first, let's go back to her masterful songwriting skills. In a November 2015 interview with The New York Times, Adele revealed what goes into each song she records. "In order for me to feel confident with one of my songs, it has to really move me," she said. "That's how I know that I've written a good song for myself — it's when I start crying. It's when I just break out in tears in the vocal booth or in the studio, and I'll need a moment to myself."
That explains why fans can't help but get emotional with every Adele release. She has so many tracks that pull at listeners' heartstrings, but these 12 are Adele's most emotional to date, IMO. Before you revisit them, I recommend grabbing some tissues.
These 12 songs prove exactly why Adele is the GOAT.