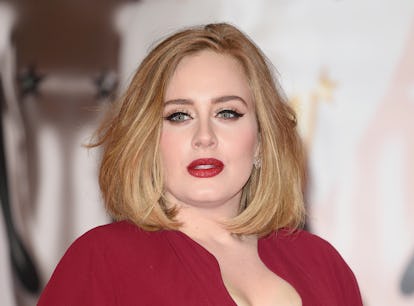 These 10 Adele Breakup Songs Are Perfect For When You Need A Remedy
"I'm sorry for breaking your heart." — Adele, probably
Karwai Tang/WireImage/Getty Images
Have you ever gotten your heart broken so badly that you just want to sit in your room all day and cry? Well, Adele knows that feeling. The "Rolling in the Deep" songstress has written some of the best songs about heartbreak, and if you're in need of Adele songs to listen to after a breakup, then you'll wont have any trouble finding some good options.
In fact, Adele is such a pro at writing breakup songs that she once told the New York Times she only gets excited about songs that will make people cry. "In order for me to feel confident with one of my songs it has to really move me," she told the publication in a November 2015 interview. "That's how I know that I've written a good song for myself — it's when I start crying. It's when I just break out in [expletive] tears in the vocal booth or in the studio, and I'll need a moment to myself."
This songwriting process has helped Adele win 15 Grammys to date, and I don't think that she's done making breakup songs anytime soon. Ever since she split from her ex-husband, Simon Konecki, in 2019, fans have been waiting for Adele's next tearjerker album. If it's anything like the songs she sang below, then we know we're in for another masterpiece!
Adele should be called the queen of heartbreak music. She really knows how to tug at people's heartstrings — but hopefully, her Adele's best breakup songs will also help you find a way to heal you own broken heart.