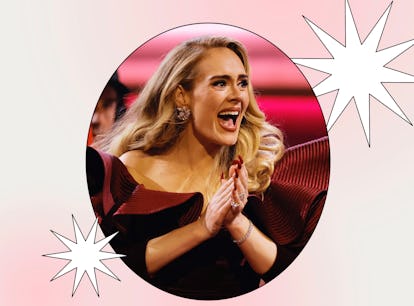 Adele Revealed What She Said About Rihanna In That Super Bowl Meme
All the lip-readers were right.
Kevin Winter/Getty Images Entertainment/Getty Images
Adele simply can't go anywhere without becoming a meme, and now she's shedding some light on her latest internet-breaking moment. During Super Bowl LVIII, a short video of Adele seemingly talking about Rihanna's halftime show went viral, as viewers tried to decipher what the superstar was saying. And it turned out, all the social media lip-readers were correct. Adele revealed what she was saying about Rihanna in that Super Bowl meme during her Feb. 17 Weekends with Adele concert.
During the second quarter of the Super Bowl on Feb. 11, cameras caught Adele in the audience very emphatically talking about something to the people next to her. The cameras didn't pick up any audio of what she was actually talking about, but the clip quickly went viral, with social media users assuming she was silencing those around her in preparation for Rihanna's upcoming halftime show performance. This isn't the first time Adele's court-side antics at a big sporting event have gotten the meme treatment — a year earlier, her nonchalant glances at a basketball game became Twitter's instant favorite reaction GIF.
Though the Super Bowl video of Adele didn't have sound, even the most amateur lip-readers were able to make out what she was saying thanks to the singer's emphatic mouth movements. Before long, the whole internet was convinced Adele was talking about how Rihanna would be "fab" after she has some weed.
A week later, Adele confirmed that lip-reading to be absolutely correct. During her Weekends with Adele concert, the singer spoke about the viral moment, revealing just how wrong she was when she found out with the rest of the world that Rihanna was pregnant.
"It's hard work being a constant meme," Adele joked. "I was saying, 'She's going to be fine. She's going to have some weed and be fine.' But clearly she couldn't have any weed because she was pregnant."
Adele may have been wrong about Rih's pre-show activities, but she was definitely right about the show-stopping performance being fab. The superstar's halftime show featured a dozen hit songs from throughout Rihanna's two-decade career, which she performed in a striking blood-red jumpsuit atop floating platforms.
And of course, Adele was living for the show once Rihanna hit the stage. Cameras caught her singing and dancing along to "Umbrella" in the crowd.
Clearly, Adele was in full fangirl mode for the entire Fenty Bowl, and who could blame her?