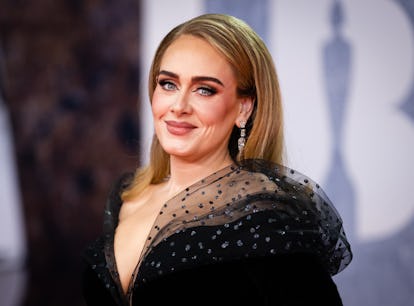 Adele Tearfully Revealed The Origins Of "I Drink Wine" & I'm Not OK
Is it too late to add James Corden to the songwriting credits?
Samir Hussein/WireImage/Getty Images
It's been nearly two years since Adele released her "divorce" album, 30. That era, which created an unintentional meme, saw the singer confronting the end of her marriage and relearning what it means to be happy. There's several vulnerable cuts on this record, including "I Drink Wine." However, the inspiration behind this track goes beyond the collapse of her previous relationship. Adele recently revealed that James Corden influenced her to pop open the corkscrew of her emotions for the song.
On Apr. 24, Adele made an emotional appearance on Corden's final Carpool Karaoke segment. Around the 9:40 mark of the episode, the singer recalls the process of creating "I Drink Wine" and says she believes it has "some of her best writing" on the album. She adds that the idea for the track came to her during a six hour conversation she had with Corden as they traveled home from a joint family vacation in January 2020.
"This song is very special to both of us. It was the first year that I felt like I had to hold myself accountable for just being an adult, whereas the year before that, I left Simon," she said, referring to her 2019 divorce from Simon Konecki. Adele also shared that Corden and his family helped create a safe space for her and son Angelo, whom she shares with Konecki, as they dealt with the split. "You were always an adult to me. You have always given me advice," she said, her eyes filled with tears.
The singer then revealed she noticed Corden was going through a tough time that year. He nodded at her observation, responding that "work stuff and the internet" pulled him into an uncomfortably dark space and he "didn't feel strong" about himself. That revelation shocked Adele, as he was admittedly one of many solid foundations that helped her cope through her divorce.
"I felt so unsafe with you feeling unsafe," Adele said, adding she wrote "I Drink Wine" a couple weeks after they spoke. "I remember I sang it into my phone and I sent it to you. I remember you saying, 'That's exactly how I was feeling.'"
Corden agreed, his eyes becoming glossy. "It was everything I was feeling that day. I was floored how you managed to take everything that I felt about myself and put it in a verse. It's the greatest privilege to form something from a conversation that's so honest between two friends. It blows my mind."
The two, visibly emotional, then sang "I Drink Wine." Spurring in with an Elton John-inspired piano melody, Adele reflects on the woman she's become. She's grappling with the reality that life can turn people into unlikeable, almost exhausting versions of themselves. In the end, she's wondering how she's gotten away from herself, and that underlying grit in her tone shows she's probably sat with this thought numerous times.
In the episode, Corden stopped singing as though he was drinking in this final moment of the segment, and let Adele take center stage in closing out the track. Elsewhere in the segment, Corden reminisced on his late night show's eight-year legacy and Adele's first time appearing on Carpool Karaoke in 2016.
The two friends closed out the touching episode by singing Adele's "Hometown Glory," a nod to Corden moving back to London once his talk show ends.