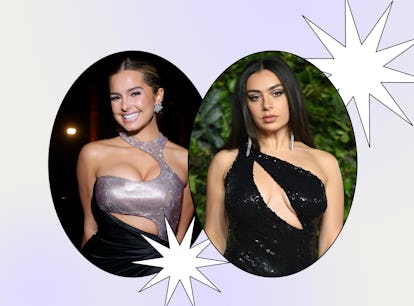 Addison Rae & Charli XCX's "2 Die 4" Is The Internet's Fave New Collab
The power this duo holds!
Emma McIntyre/amfAR/Getty Images Entertainment/Getty Images/Karwai Tang/WireImage/Getty Images
Hot take: Every pop girl should have one fun and slightly unserious single in their catalog. These releases tend to be lyrically simple, yet infectious enough to remember. Meanwhile, the production throbs in a glossy, sometimes over-the-top sheen that makes the song a staple for your 'getting ready to go out' playlist. Just a *chef's kiss* combination. The latest stars to hop on this train are Addison Rae and Charli XCX with their duet, "2 Die 4," which Twitter is already crowning as the collaboration of the year.
"2 Die 4" is a sonic standout on Rae's newest self-titled EP. The project, which dropped on Aug. 18, is a compilation of the singer's tracks that have leaked in the last year. Rae had previously dubbed this release as "the lost album," insinuating the leaks might never have an official release. Fortunately for the pop newcomer, she found a new home for these gems.
She celebrated the EP on Instagram, calling it the end of her current musical era. "A few of you may have heard these songs after they were unfortunately leaked last year. But if you loved them, now you can listen to them on all streaming platforms!!! Ahhh!!" Rae wrote in the Aug. 18 post. "If you haven't heard them, I hope you take a listen and they make you dance!!"
Before the EP's release, fans already had their eyes on "2 Die 4." Not only was the track — a lusty number about being an it-girl — a cult favorite, but Charli seemed to tease an appearance on it. Rae then confirmed Charli's involvement on Instagram on Aug. 15, posting a photo of them posed together and other lighthearted symbols related to the single.
Sonically, this duet exudes that certain brand of Juicy Couture pink pop music — a reign that artists such as Paris Hilton dominated in the early-to-mid-2000s. From Rae's self-indulgent one-liners ("So come take a bite in the middle of the night") to Charli's soft vocals, which glides on the production with ease, this collaboration was designed for the dancefloor. And by fans' reactions on Twitter, it seems they'll be grooving to "2 Die 4" for the rest of the summer.
This duet might become fans' personality trait this season.
From snagging *the* electro-pop maestro to reimagining an older Lady Gaga demo on "Nothing On (But The Radio)," Rae pulled off one hell of a debut EP.