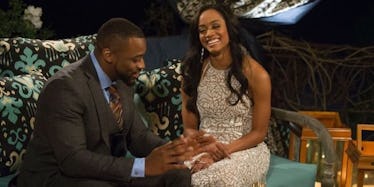 This Is Who Could Win 'The Bachelorette' This Season, According To Matchmakers
ABC
The time has finally come, you guys, and my body has never felt so ready.
Following last night's premiere of Season 13 of The Bachelorette, we are now fully immersed in Rachel Lindsay's ~love~ universe, as she sifts through this sea of... interesting guys to find the one.
But just who will "the one" be? Well, obviously, we've only seen the first episode of this season, so we don't know for sure just yet. Though, we do know Rachel is currently happily engaged with one of these lucky guys...
And who knows? While some of the guys seem great now, they might turn out to be the actual worst. Because we're totally not expecting that to happen.
Regardless, we all live to speculate (and eventually be right, hopefully). I mean, what's the point of things like March Madness if you can't make your best guesses and laugh in people's faces when they were wrong and you were right?
To help make some rock-solid predictions, Elite Daily spoke to two professional matchmakers to find out which contestants on this season of The Bachelorette have the best chance of receiving Rachel's final rose.
1. Kenny, 35, professional wrestler
Despite being a pretty jacked (and super hot) professional wrestler, Kenny does seem to have "a warm, loving, teddy-bear vibe about him," according to Alessandra Conti, Matchmaker and Dating Expert.
"If I had to pick a life-partner based on personality alone for Rachel based on the first night, I would pick Kenny. He leaves a great first impression," she tells Elite Daily.
Susan Trombetti, a matchmaker and CEO of Exclusive Matchmaking, admits she was a little skeptical about Kenny at first, "but then [she] saw the devotion he has for his daughter."
Trombetti believes that if Kenny doesn't win, he'll absolutely make it pretty far in the competition:
He is going to be one of the last two standing. He is cute, too. When he spoke, he spoke quietly and she listened. So did I. He is charming and sincere.
Though, Conti still isn't without reservations about Kenny. She says,
My concerns with him are career/stability oriented: Is wrestling a sustainable career?  Does he have aspirations of opening his own wrestling studio? How will he support Rachel?
While Kenny is currently a top contender for Rachel's final rose so early in the competition, even if he doesn't win, Trombetti believes he has some of the qualities ladies everywhere should look for: "Ladies, take note: if he loves and takes care of his children, he is going to love you and cherish you the same."
2. Josiah, 28, prosecuting attorney
With a strong career as an attorney (something he and Rachel have in common) and a lot of confidence, Josiah is shaping up to be a pretty strong choice for Rachel.
"Josiah is comically cocky, but I am excited to get to know the real person behind the bravado. I think Rachel will be attracted to his confidence, success, and take-charge personality," says Conti. She adds, "I liked that in the previews, he sees Rachel break down, and finds beauty in her breakdown."
Trombetti also agrees that Josiah could make it to some of the last rounds, if he doesn't take the whole thing home, as long as he shows "the real him":
If he plays his cards right, he is going to be one of the final guys — one of the last four standing, I think — if he can articulate the real him. When he lost his cockiness, we saw some of his true character come out ... He is a great role model, and he knows what he wants.
However, Conti warns Josiah may be a little too enthused about Rachel too soon: "He has what I like to call 'pre-mature infatuation' — he does not even know Rachel, yet he has built her up into perfection, which no one can live up to."
Still, she hopes Josiah will let his guard down and continue as a strong option for Rachel. "I find myself rooting for him despite his cockiness!" she says.
3. Peter, 31, business owner
The potential wildcard pick here seems to be Peter, a business owner from Madison, Wisconsin.
Though we didn't see an intro to Peter at the start of the premiere, both Conti and Strombetti believe this guy still has a strong chance of Rachel falling in love with him.
About his personality and his chances on the show, Conti says,
[He] seems very self aware and on the same level as Rachel. Great personality, incredibly attractive. He did not get an opening package, so I am not sure how far he will go, but I would love to see more of him! Rachel seems to be into him as well. (I mean, who wouldn't be?!)
According to Trombetti, the fact that Peter is just a "real," slightly imperfect guy could up his chances of winning Rachel's heart.
"Seriously, he was nervous and sweet. Always take note when a man doesn't have the perfect game. He isn't practiced and sincere. He was just right and handsome," she says.
Of course, it goes without saying, we live in a crazy world, so any one of the Bachelorette contestants — yes, even Jonathan the tickle monster or Lucas the "whaboom" guy — could have a shot at winning. And who even knows what'll happen with DeMario, who seems like a total catch, but may be shaping up to be the "villain," as Trombetti says.
I guess we'll just have to wait and see who "tickles" Rachel's fancy. (I'm sorry, BYE.)