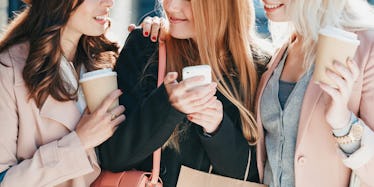 Women Get Real AF About What Makes Them Swipe Left On A Guy's Profile Immediately
Aila Images
Crafting a perfect dating profile is an art form not many have mastered.
Your photos, along with a well-written biography and a strategically set age range, are all things you have to consider when making your profile on any app.
As an avid swiper on multiple platforms, I've learned some tricks of the trade that may not have landed me love, but have at least gotten me into someone's pants.
I take what I can get.
Unfortunately, that's not the case for everyone. Some guys plaster obnoxious pictures (for instance, anything taken at the gym) on their profiles that brand them "asshole bros."
Others mistake sending Third Eye Blind lyrics to a match for a turn-on, while a few post so many group shots, any potential matches have to play a game of Where's Waldo? and nobody got time for that.
To help the gentlemen whose profiles could use some work, a few women sounded off on what they will immediately swipe left on:
Your photo selection is extremely lackluster.
If men aren't smiling in their pictures, it means they either have really bad teeth or they have zero sense of humor. If they use screenshots of their snapchats, unless it is extremely hilarious, I don't want to see it until we are Snapchat friends. If I see the same girl in every picture, I'm going to assume she is your recent ex-girlfriend, and you don't have any good pictures of yourself since you guys broke up. Also, if you're showing off the Grouper you just caught on your dad's fishing boat... boy, bye.
— Ricki, 27
You and your mirror are too good of friends.
A mirror selfie comes off very conceited. He really can't find one candid picture of himself that does his looks justice? It also comes off like he is way too concerned with looking perfect.
— Mariah, 27
Your professional head shots are too misleading.
It's an immediate swipe left if your Tinder photos are all professional head shots. No one looks as good as their head shot. Plus, they look super sterile and impersonal.
— Alyssa, 25
You look like you're stuck in your college years.
I'll swipe left if all of their photos are on a mountain or a waterfall three miles away. One is cool and shows you're adventurous, but I can't see you, bro. Also, having pictures of heavy drinking or funneling beer in a frat from years ago is just not attractive.
— Gabriella, 25
You have a serious height deficiency.
If someone has five pictures on their profile, and all of them are group photos, most of us will assume you're the shortest, most unattractive one in the photo and/or don't have time to play detective and match your face in each photo. Also, to whoever was the first girl to have balls and flat-out ask her online match how tall they were, thank you. "5'8" if you care" is an appreciated note, and if you fall under 5'9", I'm swiping left.
— Maddie, 27
You're wearing sunglasses indoors.
If you have sunglasses on in every single picture, I'm swiping left. I know you want to show off that one time you went on a boat with all of your buddies, but how am I supposed to tell you apart from all the other 6-foot brunette men I go for?
— Ana, 24
Your name brings back bad memories.
Anyone with my brother's or ex-boyfriend's names are an immediate left swipe. You better be a real dime piece if your name is "Chris."
— Christina, 24
You're unable to crack a smile.
If you're not smiling in any of your photos, that's a turnoff. Why so serious? And if you're partying or wasted in every photo, that's too intense for the opposite reason. No matter how nice your muscles are or your expensive watch may be, those photos just make you seem superficial — even if you're not. And if I have to channel Sherlock Holmes to figure out which person in the group you are, that's too much work right off the bat.
— Janet, 24
Hopefully, this advice helps you land an abundance of matches in the near future. And yes, I take full credit for it.