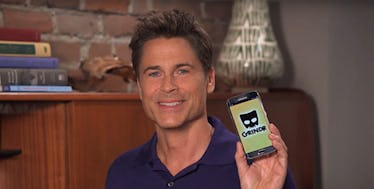 5 Things You Should Never Put On Your Grindr Profile
ABC/Jimmy Kimmel Live!
Since I'm a self-proclaimed dating enthusiast, most people find it pretty interesting that I've never used Grindr.
Though it's essentially the "original" gay app for meeting single men, I've always been turned off by its history of being a place where you go for one-night stands — that's just not my style.
Instead of establishing a safe space, and place to hone in on conversation and interaction with men similar to you, it's always seemed to do the opposite. At least when I've attempted to use it.
Now, don't get me wrong. I definitely enjoy having sex. But sometimes, I'm looking for more than just that.
And while I may not be an avid Grindr user, my quick download-and-delete experiences have certainly opened my eyes when it comes to how to present yourself on an app like this.
I also like to think my Tinder, Bumble or Hinge profiles are up to par. A nice face shot, a display of personality, quick and to-the-point bio? Check, check and check.
Here are five things you should never put on your Grindr profile:
1. Extremely outdated photos.
We all have photos we've stared at and thought, "Wow, I look damn good." But if the shot is from a New Year's party where you had whiter teeth and a little more hair on your head, it's an immediate no-go, my friend.
One of the key things to remember for any dating profile is this: Honesty will get you as far as you're looking to go. If someone doesn't want to talk, or even begins to degrade you for how you look or act, fuck 'em. You're better off.
If you use your most recent pictures that you deem downright awesome, you'll find a perfect match who's actually interested in you, for you.
2. A description of how "nice" you are.
No one wants to read a novel-length profile bio. When it comes to describing yourself, keep it short, sweet and leave it off with something that will have me wanting to know more.
If you go on and on about how "nice" you are, your hobbies, hopes and dreams, you've already lost me. And please, don't mention your cat.
3. Any kind of arrogance.
If I haven't yet requested to see your abs (or your butthole), please don't show it to me.
Along with parts of your body, sweaty gym shots and oddly angled selfies are also an automatic "no, thank you," and Grindr has no shortage of 'em.
There's a big difference between confident and cocky, and it's never fun to have to put up with an asshole before you even begin talking to one.
4. Private information.
As Grindr tends to be known for its fast-paced nature, you might find yourself eager to disclose personal information quickly.
You're allowed to think a little before making any actions, especially if giving out your address to a stranger makes you feel uneasy.
If that's the case, head somewhere public first, maybe get to know them a little and then take it from there. Safety first, people!
5. A quote. (And if you do, it better be damn good.)
Everyone loves a little motivation, but I'm not looking to mix boners with Bible verses.
If you're looking for a blurb or quote to fill up your profile space, use a movie quote or song lyric you can bank on people actually recognizing.
If someone comes along who knows it, you've found instant common ground and odds are they won't make fun of you for it. A little Third Eye Blind never hurt nobody.
I may still be set on the apps I'm currently using, but if all you dudes consider a little profile revamp, who knows? Grindr may gain itself at least one charming 5'6 Jewish boy.