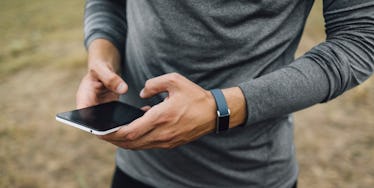 10 Things I Learned About Gay Hook-Up Culture From My Day On Grindr
Unlike many gay men, I had never used Grindr before. That all changed this past Monday, when I logged on, created an account and started searching for hookups.
I got on not because I was interested in hooking up with anyone off the app, but because I wanted to explore. I wanted to see what all the buzz was about. Now, I know.
For those of you who don't know what Grindr is, it's the gay man's essential hook-up app, used for quick hookups and meetups, ranging from wild sex, to jerk-off parties, to oral sex and threesomes.
When you open the app, it's a candy store for hookups. There are hot bodies, cute guys and muscles galore.
There also happen to be a bunch of not-so-attractive men, guys who repeatedly message you solicitations and lots and lots of dick pics. It's a completely new world.
I used a fake body (actually Zac Efron's), which some people picked up on, in order to maintain total anonymity, but to still receive messages. (His body is hot, so I got a lot of guys messaging me wanting to hook up.)
While I feel kind of bad, trolling on Grindr was ridiculously addictive and entertaining, and it taught me a few things. Here are the 10 lessons I learned from a day on Grindr:
1. People are very superficial.
This one is an understatement. The superficiality on Grindr was astounding. Someone asked for a "face pic," and once I sent a fake one of a very attractive guy, the guy blocked me. Because the face wasn't hot enough?
I can't tell you how many times people asked my dick size. Before they even said hello, they asked, "Dick size?" How about starting with, "Hey, how are you?"
What does this say about our 21st century culture? Without a doubt, the superficiality on Grindr directly contributes to the stereotype that gay men are superficial. What happened to everyone is beautiful?
2. People are set in their ways.
People know what they want on Grindr and aren't afraid to unabashedly ask for it. People asked me, "Top? Bottom?" because they clearly had a very clear preference of what they wanted.
Some people on Grindr are vers (meaning they're both top and bottom), but I was surprised at the sheer number of people who told me they were only interested in being a top or a bottom.
Some guys also only want uncut. This one surprised me a little. A guy messaged me, "Cut or uncut?"
I replied, "Does it matter?" (Really, does it matter?) I guess to some people it does. Since when are we differentiating on whether or not we were circumcised?
3. People are super forward.
On Grindr, people are unbelievably forward. They aren't afraid to text you, "Hey" with a full nude of their bodies and dicks.
Not only that, but Grindr has a location function that lets you send your exact location to another person. Numerous people said, "Looking?" (looking to hook up), followed by a pin to their location.
Your location, seriously? That's not only forward, but it's kind of dangerous. I like to get to a know a guy first before I invite him over.
4. It is great for validation.
Now, I'm not saying this is a good thing, but I think Grindr is terrific for validation. There's nothing like being told by a bunch of people that you're sexy and that they want to sleep with you. It's definitely a major ego boost.
5. It's great for exploring what you like.
While I may not be the type of person who enjoys hook-up apps, I think Grindr serves an important role in that it helps people figure out what they want sexually. They have all types of options in terms of people and activities. Go explore and find out what you like!
6. It's an excellent way to set up a threesome.
If you and your partner are interested in having a threesome, Grindr is a great place to find a stranger for it. I was approached by several couples interested in threesomes, and I think it's a seamless, easy way for a couple to explore who they might want to invite into their relationships for a night.
Threesomes are great fun. Try one!
7. People are really f*cking horny.
If you didn't know people are really horny before, Grindr will validate that claim and then some. Men are portrayed as more sexual than women, so when you make it two men, the horniness overflows. Many guys messaged me, "I'm so f*cking horny. Want to hook up?"
8. I learned the gay lingo.
Grindr helped me learn some of the gay lingo. Here are a few of those words I learned or that were frequently used:
Raw top: meaning you are the giving partner and don't use a condom. This one, folks, is dangerous.
Host: meaning a person can host the other person at his apartment. This one is key for Grindr because people often have roommates, etc.
Vers: meaning a person is a both top and bottom.
X pic: meaning a picture that is X-rated, aka one that shows your cock or ass.
Flip fuck: meaning that at first, one person is receiving, but later on, he flips his partner over and starts to give.
9. It probably isn't the place to find love.
This one seems obvious, but Grindr probably isn't the place to go searching for love. Now, this doesn't mean it doesn't happen.
One of my best gay friends in New York met his now boyfriend of three years on Grindr. They started hooking up and soon realized it was something more than that. Hook-up app love: It's rare, but wonderful.
10. It isn't for me.
My mom always told me never to "yuck someone else's yum." And Mama's always right.
I think it's great that Grindr works for some people. More power to those folks.
But, I'm not one of them. I just can't wrap my head around the idea of random hookups.
I'm too emotional and romantic for random, meaningless sex, no matter how hot is or how horny I am. I'm more old-fashioned, more of a romantic.
I'm a hopeless romantic looking for my Prince Charming to sweep me off my feet. (Naïve? Maybe. But, I'm happy being naïve.) At the end of the day, I guess I'm more of a Tinder guy.
My overall review:
For some people: A
For me: D- I really just can't stomach it.
I think Grindr is great, for some people. Don't knock anything until you've tried it, and don't shame some people for having some fun.
Now, it certainly has its problems of superficiality, discrimination and such, but for some folks, it's the best way to express themselves sexually. It's 2016, so it's time to let go and live a little.