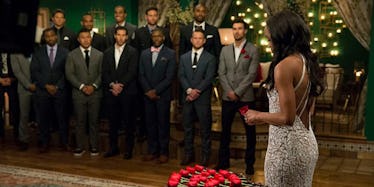 A Matchmaker Believes This Contestant Is Totally Going To Win 'The Bachelorette'
ABC
Well, you guys, Rachel Lindsay's season of The Bachelorette is well underway, and let me just say that we have certainly not been bored (except last night during Jack's one-on-one with Rachel. Sorry, Jack).
Last night, we said goodbye to Jonathan the tickle monster. We've already said goodbye to the drama between Blake and Whaboom Guy (thank God for the little things). And now, more Bachelorette drama is still heating up between contestants Kenny and Lee.
If you live for the drama like I do, then surely you are thriving right now.
But what's also heating up besides tension amongst the guys (aside from Rachel and Peter getting steamy in a hot tub)? That would be the dwindling number of frontrunners we have left vying for Rachel's heart.
Of course, as scripted as reality TV can be, we all know shows like The Bachelorette can drop a totally unforeseen bomb on us at any given second. All those guys whose names you don't remember, but somehow they're still on the show could totally be this season's dark horse.
Regardless, though, it looks like Bryan and Peter have two of the strongest chances at winning Rachel's final rose, in my humble opinion.
But what do I know? We should probably leave the guesswork to the professionals.
That's why I reached out to Celebrity Matchmaker Alessandra Conti for some expert insight on who's most likely to win The Bachelorette.
And Conti's top pick for this ever-so-coveted final rose is none other than Rachel's hot tub hookup, Peter Kraus.
"My ultimate prediction to get the final rose is Peter because of his and Rachel's dynamic connection," Conti tells Elite Daily. "Not only are they physically incredibly compatible (I loved how Peter couldn't care less about the handball game and was totally focused on physical flirting with Rachel!), but they also connect on an intellectual and emotional level."
Since this season premiered, Peter has always been considered a frontrunner, and that was pretty much confirmed when he and Rachel spent three-and-a-half hours together in a hot tub.
Conti says,
From day one, I knew something was special about the gorgeous gap-toothed salt and pepper stud that is Peter! Rachel essentially gave him a mini one-on-one date during the group date of last night's episode. (They casually went into the hot tub while all of the other men were downstairs waiting for them!)
But it's not just the fact that Rachel and Peter connect physically that makes Peter seem like the shoo-in. As Conti says, the emotional and intellectual connection they have is equally as important: "Many relationships are built entirely on one of those elements, but the relationships that have the most staying power have a cocktail of each of those elements."
According to Conti, Rachel and Peter aren't afraid to discuss more serious topics, like future plans and the reality that they both live pretty far away from each other:
When Rachel is with Peter, she openly discusses the future, and he is on board with it. She made sure to mention that she can practice law in Wisconsin (where he lives), but he has made it a point to say that he is open to moving wherever they both decide to go, which shows that he is invested in the long term.
But what about the fact that Rachel totally swerved Peter for the group date rose last night? Does that mean perhaps Rachel isn't feeling it as much as we think she is?
Conti says that isn't the case. "Last night, Rachel didn't give Peter the group date rose, but it was not for lack of connection; she had already validated him with a lot of quality time and needed to let the other guys know that there is still a chance."
And honestly, what's not to love about Peter? Out of all the guys in the house, I would literally saw off my own right arm if it meant I could be engaged to Peter. (That's dramatic, but I already told you I live for the drama, soooo.)
Conti agrees that Peter "has a good head on his shoulders," and is a total catch in pretty much every area ever:
He is not a part of the conflict, and always seems to be a voice of reason when he is in the house with the other guys. He can jell in a variety of situations; his rap last week was hysterical, and he can clearly get along well with the other guys, which is vital because once [Rachel and Peter] get together, they will be Bachelor Nation royalty.
Here's to sort of hoping that Rachel picks Peter in the end, but mostly hoping that maybe she doesn't so we all have a shot with him instead.